Sagar, Madhya Pradesh: On 24 August 2023, a Dalit man named Nitin Ahirwar was beaten with rods by Thakur men in Barodia Naunagir village in Madhya Pradesh's Sagar district, 150 km northeast of Bhopal. The 22-year-old died shortly after being hospitalised at the Bundelkhand Medical College in the city, 60 km from his village.
His mother, Badi Bahu, 55, who was at their home in Barodia Naunagir, was beaten by the same men and suffered a serious arm fracture in the attack—one more in the state with India's highest rate of crime against Dalits, 16% of the population, where the Bharatiya Janata Party (BJP) has governed for 20 years.
The dead man's sister told Article 14 the men later stripped her mother in the market, but the police said there was no evidence this occurred.
The sister said the attack was meant to deter their family from pursuing sexual assault allegations she levelled at the Thakur men in August 2019, following which a case was registered under section 354A (sexual harassment), section 323 (voluntarily causing hurt) and section 505 (statements conducing to public mischief) of the Indian Penal Code, 1860, and section 3(1) (offense of atrocities), and section 3(2) (enhanced penalties) of The Scheduled Castes and the Scheduled Tribes (Prevention of Atrocities) Act, 1989.
Speaking with Article 14 on 3 September, nine days after her brother and mother were attacked, the sister said, "They tried to destroy my dignity in 2019, and not much has been done by officials. Now they have destroyed my family. I think we will not get any justice."
"They ransacked everything, all the utensils, fridge, demolished a part of the house, and even killed my parrot," she said.
Vikram Singh, a 41-year-old politician and the village chief of Barodia Naunagir, is the main accused in both cases.
This incident in August received extensive coverage in the mainstream national media. Prominent leaders from the Dalit community, including Mayawati and Mallikarjun Kharge, as well as Kamal Nath and Digvijaya Singh, former chief ministers of Madhya Pradesh from the Congress Party, addressed the issue.
Kharge, the president of the Congress Party, said, "The Prime Minister, who pretends to be building the Sant Ravidas temple in Sagar, doesn't even acknowledge the ongoing Dalit and tribal oppression and injustice in Madhya Pradesh. However, the BJP has turned Madhya Pradesh into a laboratory for atrocities against Dalits."
Dalit community members gathered at the victim's home and agreed not to vote for any candidate from the Lodhi Thakur caste in the upcoming state assembly election, regardless of their political party.
Jagdeep Suryawanshi, president of the Bhopal-based Ahirwar Samaj Sangh, said, "Local people need to vote out those who oppress Dalits. Elections are one way we can make a difference."
Lodhi Thakurs are classified as OBCs (other backward class) in MP but consider themselves Kshatriyas (warriors) and have numerous politicians and landowners in the Bundelkhand region of the state. The 13 named in the FIR registered on 24 August 2023 at the Khurai rural police station TK included people of some other OBC castes, considered "lower" OBCs, among the attackers as well as a few Muslims.
The FIR named Vikram Thakur, Azad Thakur, Islam Khan, Golu Soni, Anish Khan, Fareem Khan, Abhishek Raikwar, Arbaz Khan, Komal Thakur, Vijay Thakur, Lalu Khan, Napeesh Khan, and Waheed Khan.
They are booked under sections 302 (punishment for murder), 323 (voluntarily causing hurt), 458 (house-trespass or house-breaking by night), 427 (causing damage to property), 294 (obscene acts in public), 147(punishment for rioting), 148 (rioting, armed with a deadly weapon), and 149 (offense by a member of an unlawful assembly). They have been booked under the Scheduled Tribes and Scheduled Castes (Prevention of Atrocities) Act.
According to Balwant Singh, a relative of Vikram Thakur, and a local journalist, the 13 accused have been arrested.
The FIR said that Vikram Singh led a group of people to ransack Nitin Ahirwar's house. Subsequently, Nitin arrived at the market and launched an attack with a sword to confront him. During the confrontation, the mob attacked Nitin, causing him to sustain severe injuries.
Nitin Ahirwar's family own five acres of land where they grow wheat, rice and soybean. His father, who works as a labourer in Indore, was not at home the day he was attacked.
When they refused to retract the case, the sister said they had been subjected to derogatory slurs like "chamara" and "chamar" over the past four years. A video of an incident from 2019 shows Vikram Thakur forcing Vishnu Ahirwar, her other brother, to touch his feet.
Golu Jain, one of the shopkeepers in the market where Nitin was killed, said, "More than 50 people were involved in beating Nitin that day in front of the shop, but only 13 people have been booked in the case."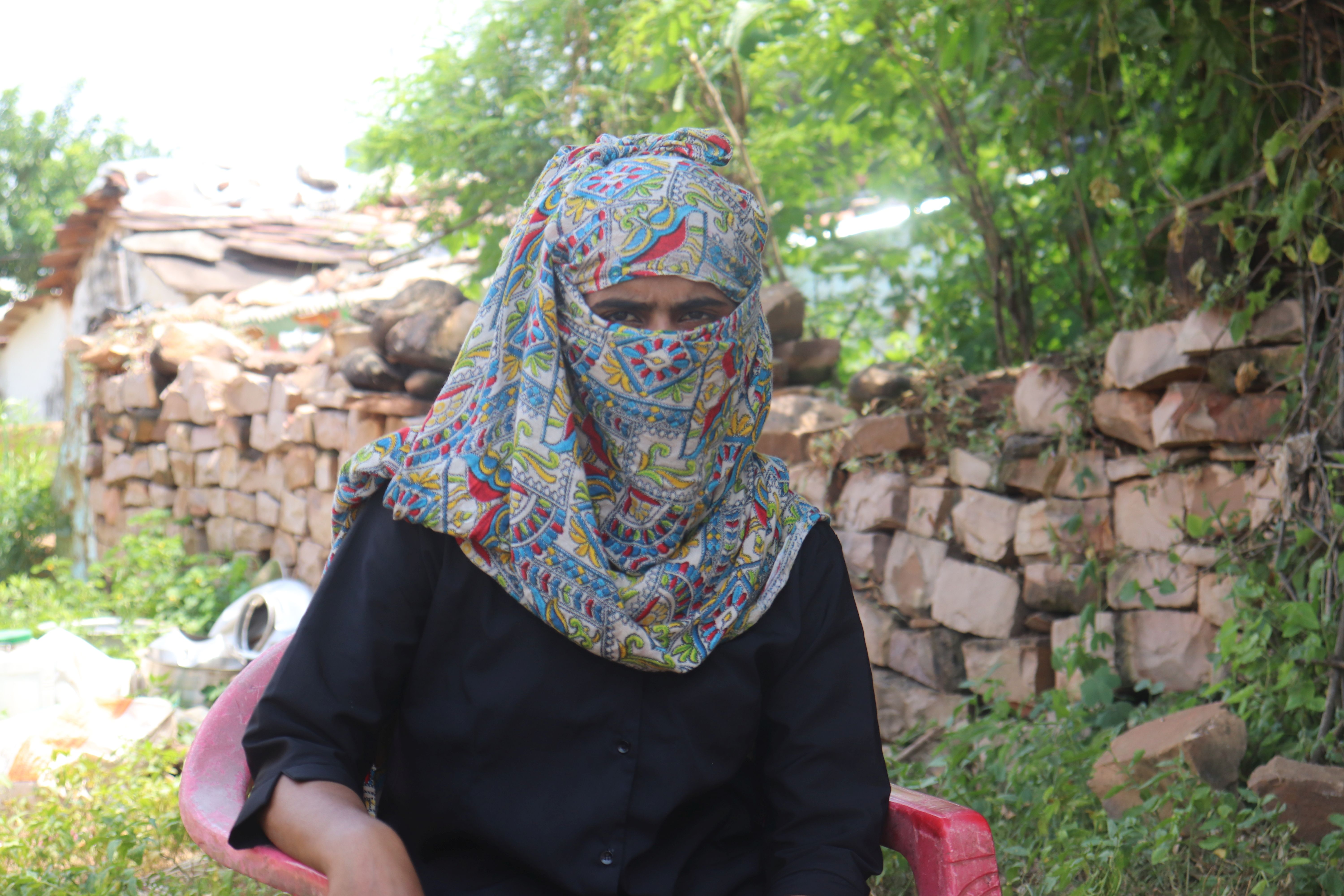 No Real Hope For Justice
Bhupendra Singh, a BJP cabinet minister and MLA from Khurai, the Assembly constituency where Barodia Naunagir village falls, said that he was "completely satisfied" with the action and that the police registered a first information report (FIR) immediately against the 13 people who were named by the victims' family.
On 6 November, villagers from Barodia Naunagir said all 13 accused were in jail. On 8 November, the station house officer (SHO) Gaurav Singh of the Khurai Rural police station did not respond to Article 14's query about whether they were in jail or out on bail.
She said the administration initially provided them with a body refrigerator but returned it within a few hours. They believe it was a tactic to force them to cremate him.
His sister said the FIR did not include Ankit Singh Thakur, an associate of Vikram Singh, who they named.
Vikram Singh's father, Komal Singh Thakur, one of the 13 accused, was a vidhayak pratinidhi of BJP minister Bhupendra Singh.
Sanjay Suryawanshi, a Dalit activist based in Sagar, said, "The police department is shielding the accused individuals. A woman was disrobed in full public view, and they are not taking this incident very seriously, which is why it hasn't been mentioned in the FIR copy. The accused are powerful people, and they are from the same caste as Bhupendra Singh. Additionally, this is Bhupendra Singh's assembly area, so the administration wants to hide this case."
When Article 14 asked a police officer at the Khurari police station why they didn't include the allegation of Badi Bahu being stripped in the village—reported by many media outlets—was not included in the FIR, one of the investigating officers said that after their initial investigation, they didn't find any proof that she was stripped during the incident.
Four years after the FIR for sexual assault was registered against five men, including Vikram Singh, the sister said that no one was convicted, and the accused were out on bail.
Allegations Against The Ahriwar Family
As per the FIR, when Nitin Ahriwar found out that Vikram Singh and others had attacked his family, he got very angry. He had been drinking, and he went to Golu Soni's shop and attacked Vikram Singh with a sword. Golu Soni tried to protect Vikram, and he ended up injuring his hand in the process.
Vikash Thakur, a relative of Vikram Singh, said, "Vikram is innocent, and he got injured when Nitin attacked him with a sword. Nearby people got infuriated and killed him. Nitin was a thief and a goon of the village, and the whole village was troubled by him.
People from the Thakur community said the villagers were fed up with Vishnu and Nitin Ahirwar due to their criminal activities. This is why they attacked Nitin, and he died in the mob violence attack.
Nitin Ahirwar had seven cases against him since 2019 under multiple sections of the IPC and the Arms Act 1959, including Section 294 (obscene acts), Section 323 ( voluntarily causing hurt), Section 452 (pertaining to house-trespass after preparation for hurt, assault, or wrongful restraint), Section 506 (criminal intimidation), Section 457 (involving lurking house-trespass or house-breaking by night), Section 380 (for theft), and Section 25B of the Arms Act.
His brother Vishnu Ahirwar is also facing seven cases under sections 147 (rioting), 380, 307 (attempted murder), 323, 294, and 506 of IPC, along with a violation of section 25B of the Arms Act.
"It is very easy for people from powerful castes to accuse Dalits and lodge cases against them," said Vishnu Ahirwar.
Prime Minister Narendra Modi inaugurated the newly constructed Ravidas Mandir in Sagar in August. This flagship project of the BJP government, valued at 100 crore rupees, with the intention of garnering votes in upcoming assembly elections from the Dalit community in Madhya Pradesh.
"How our life would change after such a temple. All we want is our rights given under the constitution," said Vishnu Ahirwar.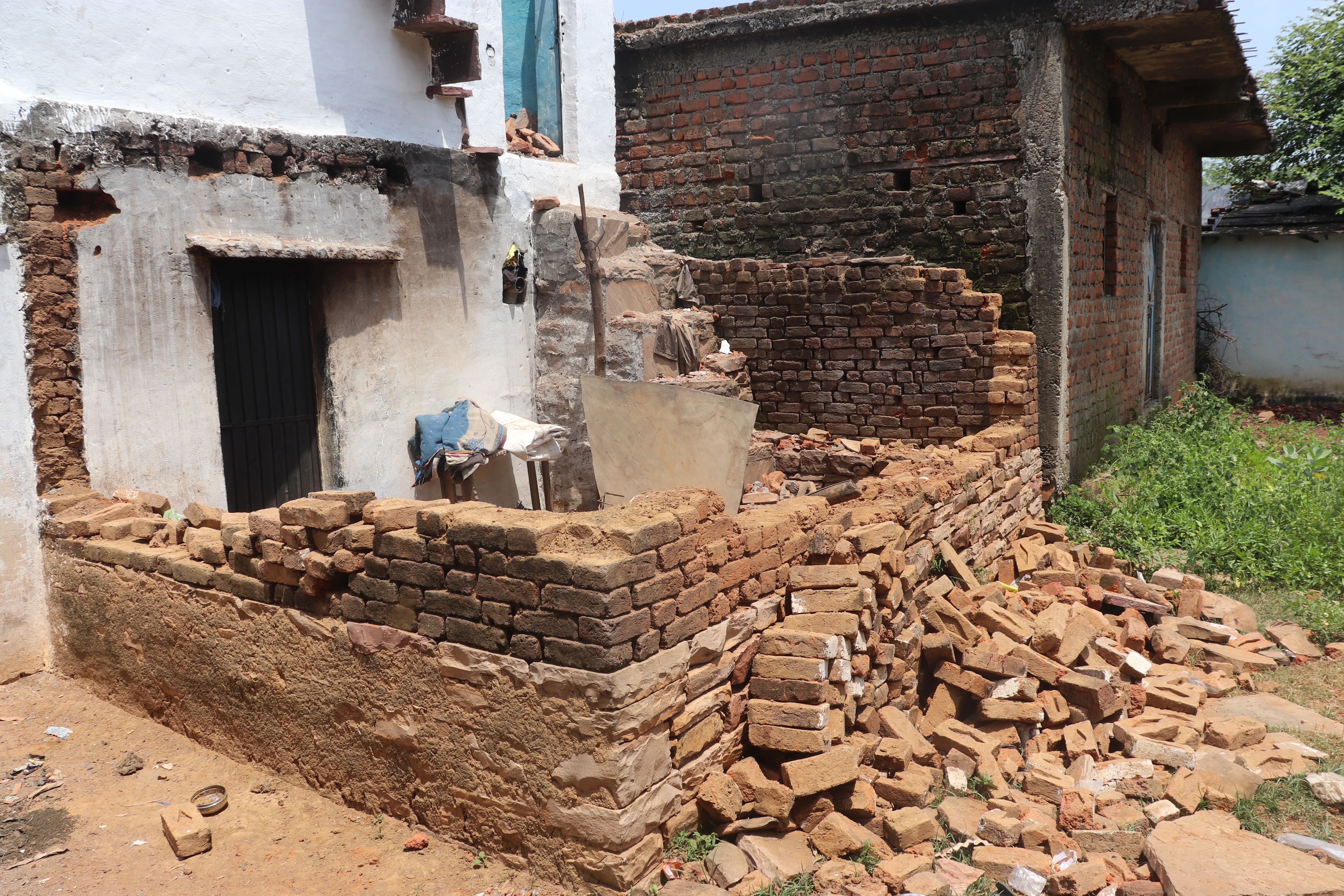 Worst Crime Rate
According to the National Crime Records Bureau (NCRB) data on the number of atrocities cases against the Dalits, Madhya Pradesh ranked third with 7,211 cases in 2021. The highest number of cases was reported in Uttar Pradesh (9,492), followed by Rajasthan (7,435).
As per the NCRB, crimes against Dalits in Madhya Pradesh have been steadily rising over the past decade: 2,945 cases in 2013, 3,294 in 2014.
3,546 in 2015, 4,922 in 2016, 5,892 in 2017, 4,753 in 2018, 5,300 in 2019, 6,899 in 2020, and 7,211 in 2021.
The crime rate (the number of reported crimes against members of the SC community for every 100,000 people) against Dalits in Madhya Pradesh is the highest compared to other states in India.
In 2021, the crime rate in MP for crimes against Scheduled Castes (SCs) was 63.6, while the national average was 25.3.
According to the NCRB data for 2021, Madhya Pradesh has recorded the highest number of cases of atrocities against Scheduled Tribes (STs), with 2,627 cases, followed by Rajasthan with 2,121 cases, and Odisha with 676 cases.
As per the NCRB, crimes against Adivasis in Madhya Pradesh have been steadily rising over the past decade: 1296 cases in 2013, 2279 in 2014,
1531 in 2015, 1823 in 2016, 2289 in 2017, 1868 in 2018, 1922 in 2019, 2401 in 2020.
Suraj Kumar Baudh, activist and founder of the Delhi-based Mission Ambedkar, said, "In most cases, the nature of atrocities becomes more horrific when the victim's family does not compromise on any previous case. Since the police administration at the local level is often found standing in favour of casteist elements, the criminals gain more strength."
Mission Ambedkar is a social platform dedicated to spreading the ideas of B.R. Ambedkar, with a primary focus on combating caste-based atrocities.
"The Madhya Pradesh government should demarcate and declare the areas prone to caste atrocities and pay special attention to these areas," said Baudh.
"Why Don't You Obey Us?"
The FIR, registered against Vikram Singh Thakur, Vishal Thakur, Puspendra Singh Thakur, Ankit Singh Thakur, and Chotu Raikwar, said that Vikram and others "headed over to the victim's house with the intention of pressuring them to withdraw the 2019 case, but the victim's family stood their ground and refused.
They ended up barging into the victim's house, armed with sticks, and verbally abused the victim's family. They also went on to ransack household items."
"In 2019, people from the Thakur caste, including Vikram Thakur and his associates, tried to sexually harass me in a field and threatened my life if I told my family," the sister said. "When my brother confronted them, they beat my brother at a bus stand and forced him to lick their feet."
"My family was always on their watchlist because we were living as proudly as others. Their expectation from Dalits is that we will bow down to them," she said.
"Wo log bolte 'hamare ghar aao, tasala dalo, gobar saaf karo, agar nahi aayi toh jail pahucha denge,'" she said. (They told me to come to their houses and do domestic work for them, clean the cow dung, and if I don't do it, they will send me to jail.)
"Wo bolte the tum Chamar ho, ham Thakur h, tum hamse dabb ke kyu nahi reh rahe? Hum bhale chahe kuch bhi kare tum hamare khillaf jaogi?" she said. (They used to say that 'you are a chamar, and we are Thakurs. Why don't you obey us? Even if we do anything wrong, will you dare to go against us?)
Vishnu Ahirwar, the deceased's elder brother, said, "Caste-based discrimination has prevailed in the village for a long time. Thakurs do not allow any Dalits to pass in front of their houses while wearing slippers. We own a horse, which we ride. The Thakurs couldn't tolerate this, which is why they trouble us."
Adivasi Teen Raped & Murdered
On the same day as the attack in Barodia Naunagir village, a 16-year-old Adivasi minor was murdered by Thakur men in Chhirauhi village in Sidhi district, 8 km away.
Dharmendra Singh Chauhan and Dheeraj Singh forcefully entered her house and raped her, but when she fought back, they tortured her, damaging her eyes and fracturing her bones.
"She was asleep in my room when the accused broke into our home. They led her to another room. They threatened me that if I revealed this to anyone, my children would suffer the same fate," the victim's sister-in-law said.
At that time, the victim was sleeping with her sister-in-law. They threatened the sister-in-law not to shout, took the victim into another room, and brutally assaulted and raped her. Later, they dumped the victim's body below a tree, around 50 metres away from her house, according to the family.
The FIR registered on 25 August at Jamodi police station was for 302 (murder), 452(house trespass with harmful intent), 505, and 358( assault under severe provocation), along with sections 3 and 4(sexual offences against children) of the POCSO Act and the SC/ST Act.
Vivek Kol, a tribal activist based in Sidhi, said, "There were injury marks on the girl's body, along with several fractures. When we threatened to protest, the police invoked sections of the POCSO and Scheduled Castes and Scheduled Tribes (Prevention of Atrocities)Act which were not included in the initial FIR."
"The police and local administration did their utmost to conceal this case. It is very challenging for Dalit or Adivasi individuals to attain justice," he said.
After the Adivasi teen was raped and murdered and the two men were jailed, her family left the village and moved 160 km away to Shahdol city, where they work as labourers.
A relative of the victim expressed their fear and the prevailing silence in the village following the arrest of the Thakur men, saying, "No one in the village dares to speak against them."
In the Adhiya farming system, people from the marginalised communities do the labour, and the expenses and yields are shared between the landowners and the farming labourers. This economic dependence often creates a power dynamic that discourages marginalised communities from speaking out against injustices.
"Most of us, belonging to the Adivasi community, are economically dependent on the upper-caste individuals as we work in their fields as Adhiya labourers. If we raise our voice against them, they may retaliate by refusing to provide us with work," the relative said.
(Anil Tiwari is a freelance journalist based in the Sidhi district of Madhya Pradesh.)
Get exclusive access to new databases, expert analyses, weekly newsletters, book excerpts and new ideas on democracy, law and society in India. Subscribe to Article 14.