Madurai (Tamil Nadu), Satara (Maharashtra) and Bengaluru: An array of factors led Indira Rajaguruvaiah, 39, who had reared cows for a living until then, to grow barnyard millet on her 4-acre farm in Virudhunagar district of south-central Tamil Nadu in 2019.
Her investment was low on account of a state government seed subsidy aimed at promoting millets; clusters of farmers in her district were adopting millets through the Tamil Nadu government's mission on sustainable dryland agriculture; and the hardy, nutritious kuthiraivali (barnyard millet) could withstand a drought or a minor flood just as well.
Yet, she and other farmers in her village Kallipatti in Sivakasi block ended up using a large part of their bumper crop as cattle feed.
"The price we were getting was terribly low," Rajaguruvaiah recounted. "It was just Rs 15-Rs 20 a kilo." The cereals in the minor millet family, such as foxtail millet, barnyard millet, proso millet, etc, are not covered under the central minimum support price regime that provides farmers production support, though a 'benchmark price' is expected to be announced soon.
The obvious solution for Rajaguruvaiah was to add value to her produce, and as there was no millet processing unit anywhere in the vicinity, she eventually installed solar panels and, with a grading machine and a hulling machine custom-built to be energy efficient and run on solar electricity, launched a small-scale processing centre for farmers from surrounding villages while developing her own line of processed millet products.
Her company Indra Agroproducts now sells graded, hulled, processed and packaged millets, traditional varieties of rice, millet dosai pre-mixes and porridge pre-mixes.
Rajaguruvaiah said she witnessed closely the transformative potential of decentralised renewable energy (DRE) solutions, which generate, store and distribute power to the user at his or her location, providing continuous, reliable and affordable energy access that is entirely off-grid.
"I would have needed a commercial power connection for a processing unit," she said. "There is no way I could have afforded that." Conventional power for business and commercial users is 40% to 60% more expensive than for domestic users.
Frequent power outages were another factor. "If farmers bringing their produce from 20-30 km away had to wait hours for power supply to resume, I could never have become a successful business owner."
Across India, the emphasis on DRE applications for livelihoods has deepened after the Conference of Parties 26 or the Glasgow summit in 2021, where India resolved to meet 50% of its energy requirements from renewable energy by 2030, and set a net-zero target for 2070.

A 2020 report by McKinsey & Co pegged India's new job requirement in the non-farm sector at "at least 90 million" by 2030, to absorb the 60 million new workers who would enter the workforce by then and the 30 million who may move out of farm work. The union ministry of new and renewable energy (MNRE) published a framework to promote DRE-powered livelihood solutions, urging central and state government bodies to push for adoption of DRE livelihood applications.
Dozens of technological innovations that solarised common livelihood implements and redesigned them to be energy-efficient are now commonly in use—silk reelers and charkhas, looms, carpentry or lathe machines, power drills, blacksmith machineries, freezers / cold storage units, food processors, lighting and incubators for poultry farms, grain hulling and milling machines, vaccine freezers, juicers, sewing machines, etc.
These enhance users' income generation opportunities, but DRE livelihood solutions have also emerged as an answer to energy inequity—previously energy-poor communities and groups, including women, Adivasis, small and marginalised farmers, all historically underserved by conventional energy distributors, have found businesses based on DRE-powered solutions to be empowering.
The Council on Energy, Environment and Water (CEEW), a non-profit policy research institution, estimated the revenue potential for entrepreneurs manufacturing and commercialising DRE livelihood solutions at $48 billion. Just 12 well-established DRE solutions could positively impact 37 million livelihoods, it predicted.
While renewable energy is equitable by nature, technology solutions based on such energy can only be made equitable by intention, warned Vivek Gilani, founder of sustainability consultancy cBalance Solutions.
"We as a species cannot use unmediated energy—only plants can do that—and this mediation is now increasingly technology-based," Gilani, an Ashoka fellow and a Bureau of Energy Efficiency-certified energy auditor, told Article 14.
The commercial development of technological innovations often becomes a site of conflict and competing interests, and therefore inequitable, he said, and requires public-spirited monitoring by citizens over the coming years to ensure these solutions are affordable and accessible to all. "It is a situation for the politics of equity to be carefully applied," Gilani said.
New Triumphs For A Disabled Athlete
For nearly 10 years, differently abled athlete U P Ilayaraja, 41, who has represented Tamil Nadu at national and international Paralympic sports meets, made a living by writing out representations and applications for people visiting the district collector's office in Madurai city in south-central Tamil Nadu.
He was paid Rs 20 per application, and hours of labour added up to Rs 6,000 - Rs 7,000 a month.
In 2019, two young representatives of non-profit Selco Foundation approached him—their organisation could custom-build a sustainable energy-based solution that would substantially improve his earnings.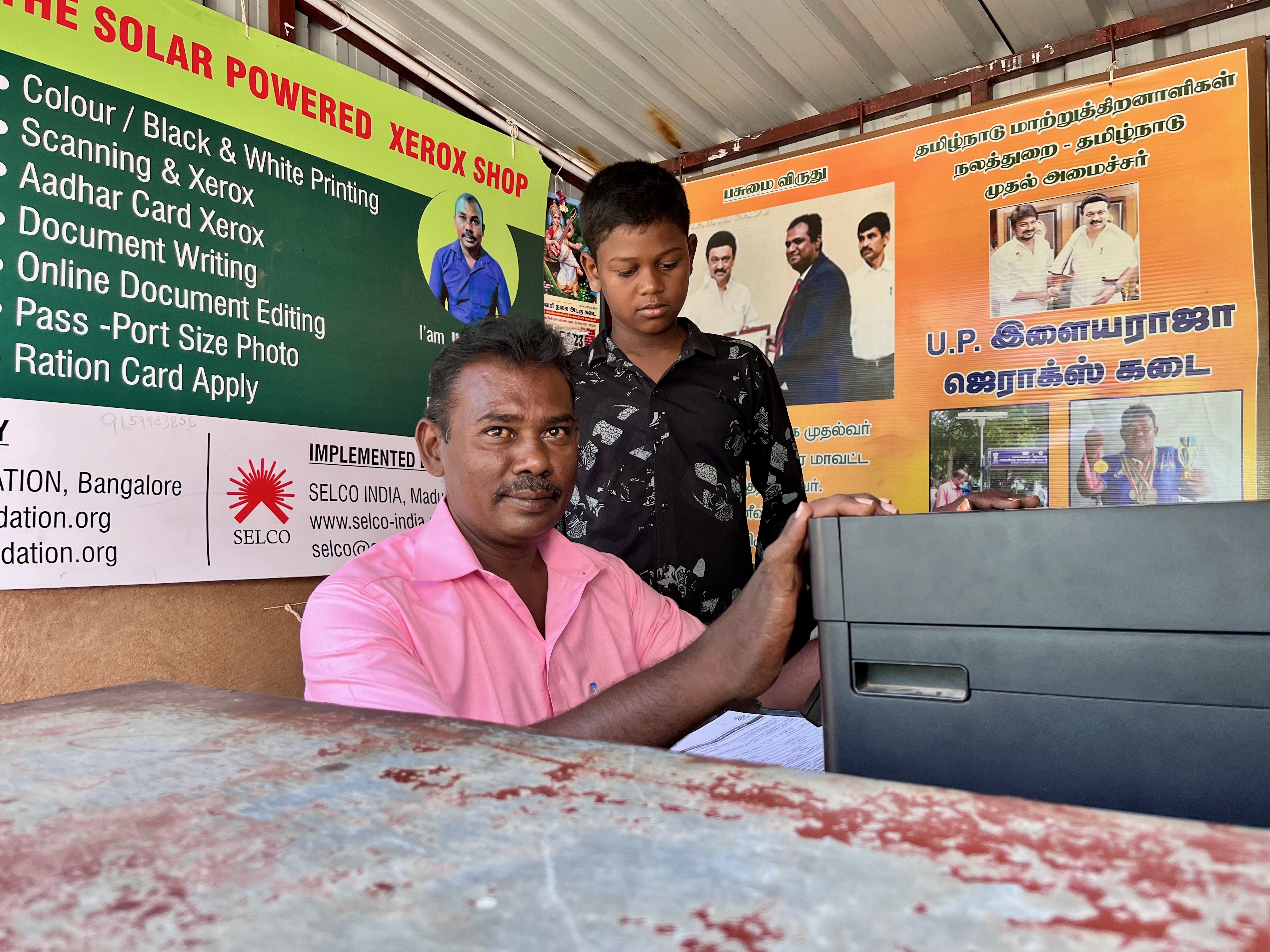 For a few months, he used a solar-powered photocopier and printer installed on the special two-wheeler he used. Built of light-weight mild steel, with cushioning to prevent damage from the scooter's vibrations, Selco Foundation designed the machine according to Ilayaraja's preferred ergonomics. Solar panels were installed on the rooftop of his home where a spare set of batteries charged while he worked outside the collector's office.
In 2022, with the government offering him space within the collectorate campus, his photocopier, printer and solar panels were shifted to a structure that he now operates from.
"I now earn up to Rs 1,000 per day," said Ilayaraja, a former shot-put, javelin and discus throw player who shifted to swimming a few years back. "More important, it is a stable income."
There is space inside for his 13-year-old son Yogaprakash or 10-year-old daughter Brindalakshmi who sometimes drop by to assist him. His wife, who used to work as a day wage labourer at a flour mill, also operates the machines sometimes.
Disability and poverty are bidirectionally related—people with disabilities have a greater risk of impoverishment due to poor access to healthcare, education and employment, and the poor also suffer a greater risk of disabilities due to poor healthcare, undernutrition and living conditions.
As many as 26.8 million Indians live with one or other form of physical or mental disability according to the Census of India 2011, or 2.21% of the total population, up from 2.13% in 2001. Only 36% of the total disabled persons were found to be working.
Energy access is critical for persons with disabilities, for assistive technology, for cooling or heating homes because they spend longer hours indoors, etc. A 2018 report by the United Nations found, however, that in 37 out of 44 developing countries, the percentage of households with disabled individuals who had access to electricity was lower than households without persons with disabilities.
"This has been life-changing for me," said Ilayaraja about the DRE solution, "to have electricity at no cost, produced right here at my place of work." He contributed Rs 25,000 of the total Rs 105,000 that the structure, panels and Xerox machine cost, an end-user ownership philosophy that Selco Foundation adheres to.
With nearly 100 medals from various sporting events under his belt, it was the Xerox machine stall and the financial security it brought that gave him dignity, he said.
An Ecosystem Of Technology, Policy, Finance, Training
Nirmita Chandrashekar, senior program manager at the Bengaluru-based Selco Foundation, said the organisation had tried to keep evolving the range of how it uses solar energy to provide long-term poverty alleviation solutions through two approaches—a technological innovations team, and another team that is dedicated to scaling up sustainable energy solutions.
Selco Foundation has developed 175 such solutions. These include farm technologies such as soil testing kit, seeder, sprayer, weeder; food processing machineries such as grader, destoner, biomass dryer, flour mill, dal mill, oil mill, cold storage, potato washer and peeler, pulp-maker, apple peeler and slicer; animal husbandry machineries such as milking machine, vaccine carrier, butter-churning machine, egg incubator, etc.
At least 900,000 people experienced better livelihood outcomes from these solutions.
"On the one hand, we are constantly optimising our technology to create benchmark and replicable solutions that work for poor communities who may have specific needs," said Chandrashekar. These could be energy-efficient appliances or sustainable energy supply systems, or solutions to make built environments more energy-efficient. These solutions are specifically designed to be financially viable for the poor, and they are context-specific. "Simultaneously, we work to build an ecosystem of appropriate finance, training, linkages and policy measures that will enable the adoption of these solutions at scale," said Chandrashekar.
In the year 2022-23 alone, Selco benchmarked 26 replicable DRE-L or decentralised renewable energy for livelihood solutions. In the second and third stages, these solutions are scaled and amplified or promoted, through partnerships with, among others, state rural livelihood missions, the MNRE, the union ministry of micro, small and medium enterprises, the union ministry of food processing industries (MoFPI), the national centre for cold chain development, etc.
In Rajaguruvaiah's case, Selco Foundation and government representatives encouraged her to take advantage of the government of India's Pradhan Mantri Formalisation of Micro Food Processing Enterprises (PMFME) scheme, run by the MoFPI along with state governments. The scheme aims to enhance the competitiveness of micro-enterprises in the unorganised food processing industry, which comprises nearly 2.5 million enterprises—60% in rural India, 80% family-run. The PMFME scheme offers units a credit-linked subsidy, infrastructure support, integration with a supply chain, etc.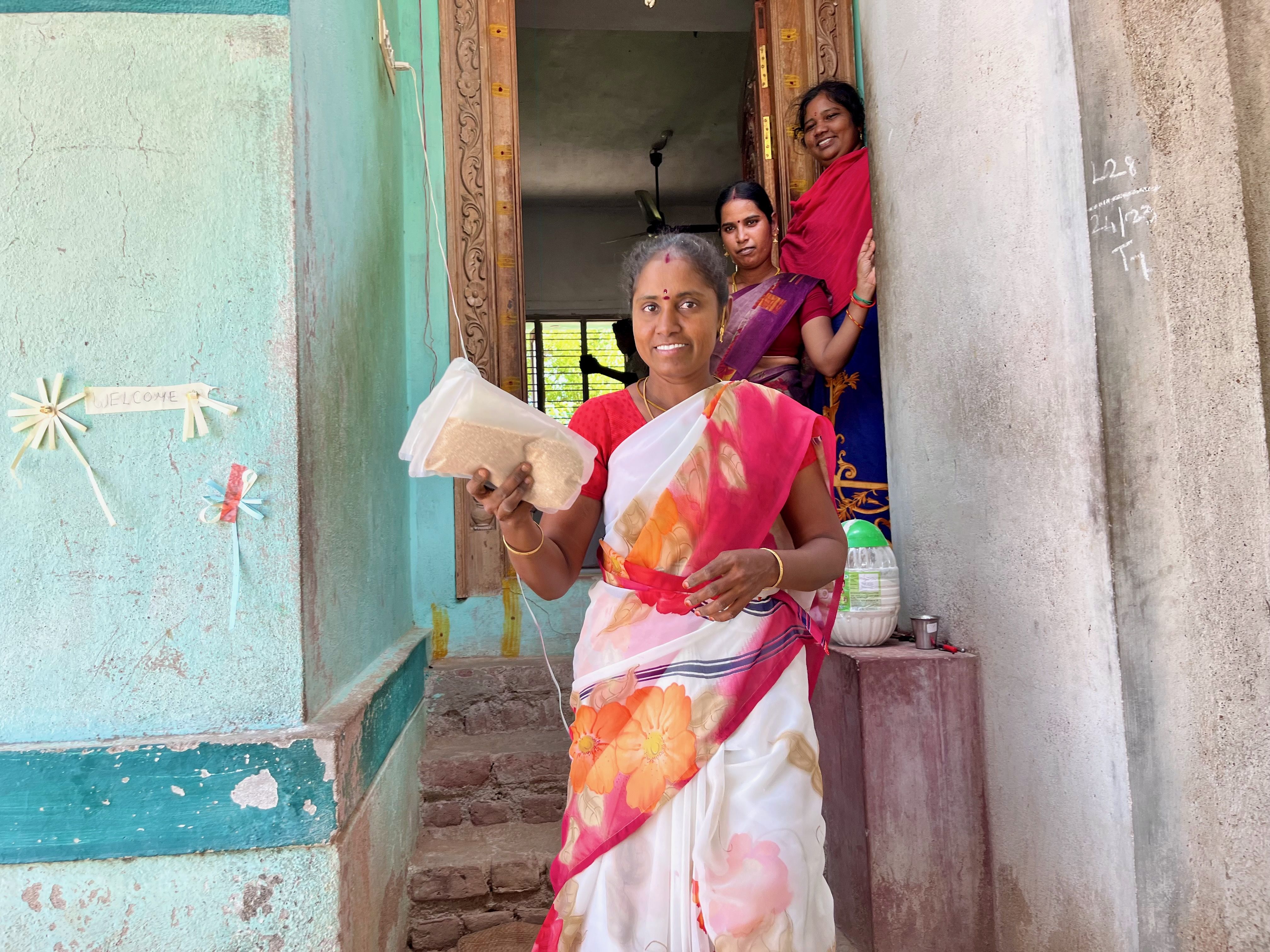 Rajaguruvaiah said the total cost of the shed and machinery was about Rs 8.3 lakh, covered by a Rs 748,000 loan and a personal contribution of Rs 83,000. The government subsidy was Rs 290,000, and repayments of the remainder began a little over a year ago.
Additionally, the PMFME scheme gives preference to those producing one district-one product (ODOP) items, and Virudhunagar district's ODOP is millet-based products.
'Finally, Our Girls Can Study Now'
In her seventies, Banabai Ramchandra Jadhav did not ever imagine that girls in Taldeo, a hamlet of 35 mud-and-dung homes with traditional tiled roofs located halfway uphill from the Koyna dam in western Maharashtra's Satara district, would be able to study at home in the late evenings.
"We never went to school, and today's kids didn't do much better—they could never study after dusk," she said. Girls fared worse because parents hesitated to send them out of the village. "Our girls can finally study now," Jadhav said.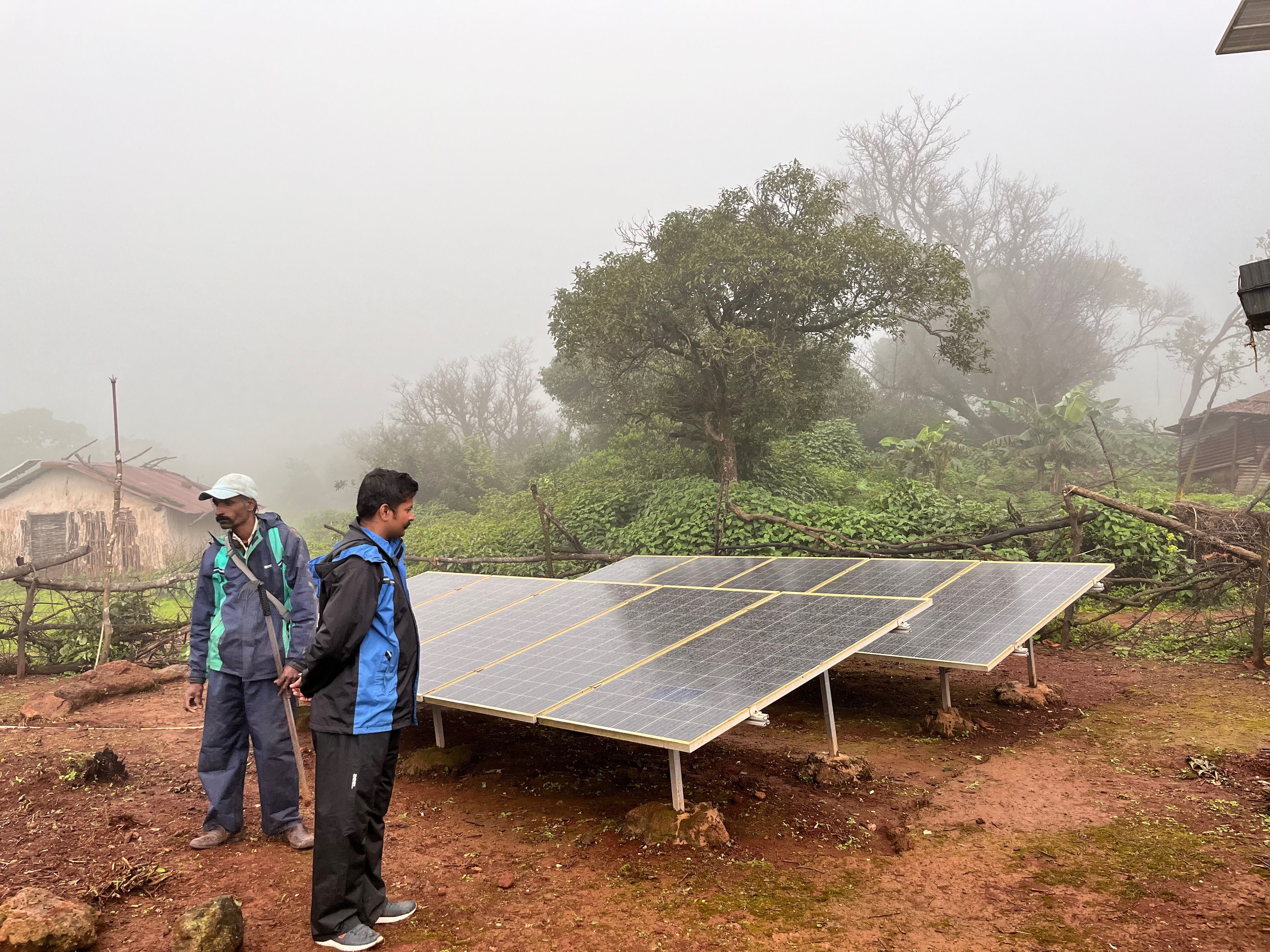 Taldeo was one of five villages located inside the core area of the Koyna wildlife sanctuary that finally received solar-powered electrification in April 2023 through the joint efforts of the Mann Deshi Foundation, HSBC India and various arms of the Maharashtra government. Until then, dinner was cooked and consumed in the dim light of kerosene lamps that sometimes caused fires.
The absence of electrification meant that almost every family in Deur, Taldeo and Vele villages had family members who migrated to Mumbai, Pune or other cities to find work, leaving ageing parents behind to care for the home, animals and farmland.
Relocated uphill when their villages were marked for inundation by the Koyna dam in the 1960s, the residents are all small farmers with an average of 2 acres of land, with several constraints to farming and animal husbandry.
"Our country is sending rockets to the moon, but meanwhile, here we often lose our crop to attacks by bison or wild boars," said Balkrishna Kondiba Khade of Deur, the 'police patil', a state government appointee who acts as a go-between for the police and the villagers.
With complete darkness cloaking the village by nightfall, nobody dared keep vigil against wild animal attacks, said villagers. Most villagers kept their livestock tethered indoors, in a section of the mud houses.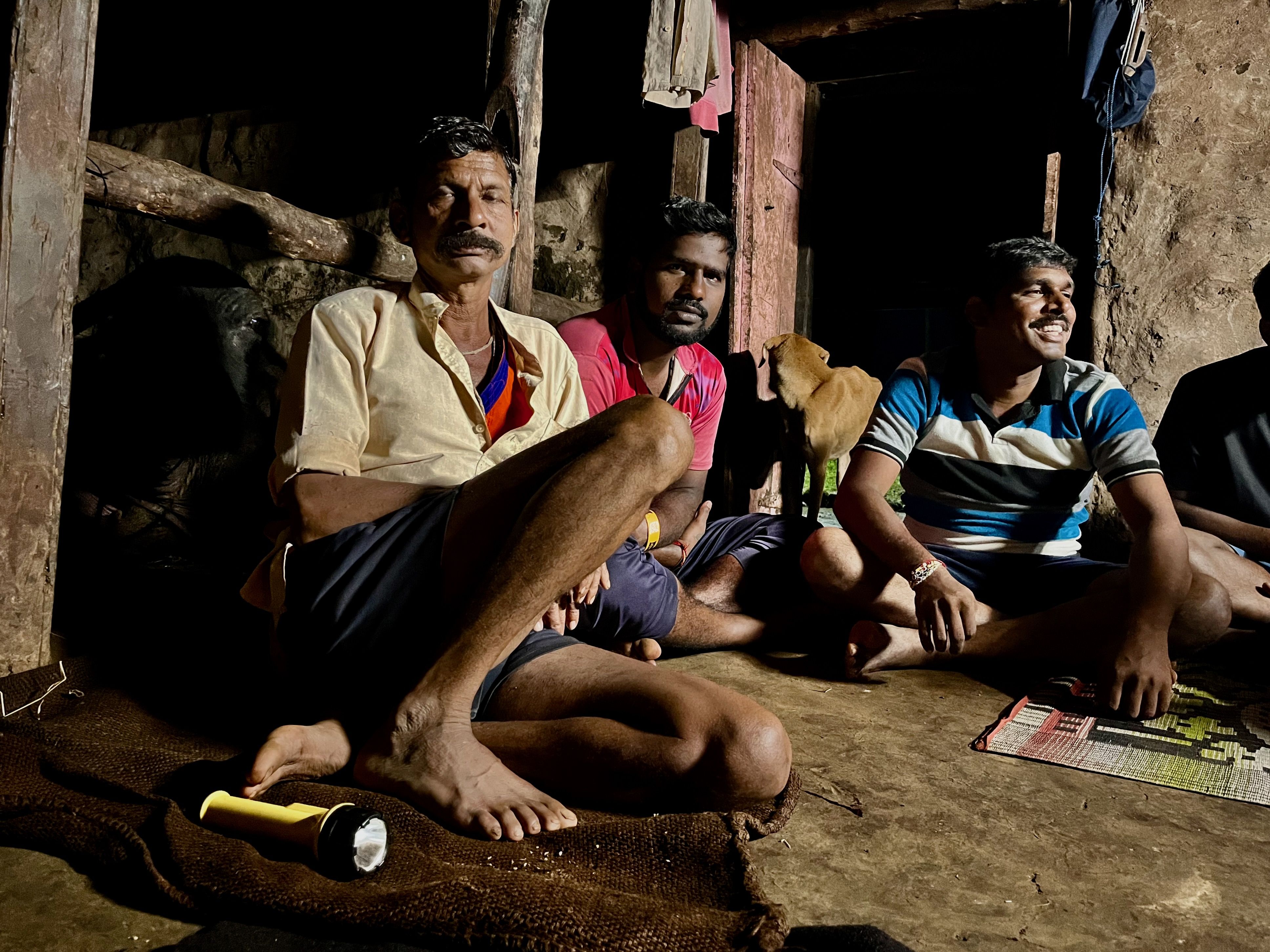 Just to charge their mobile phones, residents of Vele and Deur had to trek to Thoseghar, a village about 10 km away. When Deur resident Laxman Mane's wife Sonabai suffered a stroke around 8 am one rainy morning, it was 11 am before an ambulance arrived at Thoseghar, where residents took her in a stretcher, carefully navigating the steep paths, famously treacherous in the monsoon. It was 2 pm when they finally admitted her to a private hospital in Satara after being turned away by a government clinic. She died a few days later.
"Everyone lives in the cities because that's where electricity, work, income, roads, emergency services are all available," Mane said, rueing that Deur is almost entirely populated by senior citizens for many months of the year.
Khade agreed that out-migration had to be curbed if Deur's people hoped to really transform the village, optimise their small-scale dairying business and bring high school and college education closer to home. "The arrival of solar lights brings hope that maybe jobs or some kind of businesses may follow."
Prabhat Sinha, executive director of Mann Deshi Foundation's community development programmes, said it was shocking that homes relocated to make way for a hydro-electric dam project remained unelectrified while residents waited for compensatory packages for four decades, even as a huge wind energy park's turbines were installed in the vicinity of their homes.
For regions with geographical constraints leading to poor energy access, DRE solutions are tougher to implement.
"The terrain makes sustainable livelihood solutions difficult, but we are planning to give solar water pumps for their wheat crop once the villages' land relocation issues are settled," said Sinha. Villagers have also suggested solar-powered devices to ward off animal raids on their crops.
Besides solar lights and fans for each household, street lights and mobile phone charging points, the villages, with about 650 people in all, also received solar flour mills—operated by the women—and solar lights for a school building.
"We see it as a start," Sinha said. "Once they got assured access to electricity, residents sought help in building livelihoods." Mann Deshi is assessing the possibility of a solar-powered forest tourism-related skills centre where villagers manufacture bags, maps, hats or souvenirs. "We have thought of solarised sewing machines for individual homes also, but we have to build a market linkage for such livelihoods to flourish."
Women's Thirst To Work Quenched
Working mainly in Maharashtra and Gujarat, Project Chirag began in 2011 as an initiative to provide solar home lights in villages with limited or no access to the grid. In 2018, with the goal of poverty alleviation and zero migration, they began to work on the multidimensional use of solar electrification to provide access to better healthcare, irrigation, education and livelihoods through decentralised solar-powered solutions.
Founder director of Project Chirag Pratibha Pai, also a faculty member at business schools in Mumbai, said women in remote villages where the organisation works showed a thirst for livelihood and learning, especially once tasks that required drudgery no longer impinged on their time.
Once solar pumps brought water into the villages for home use and for farm use, once homes and streets were electrified, the women wanted to work or learn computer skills, Pai said. The common requests from women included solar-powered sewing machines, grain hullers and flour mills.
In some pockets of Gujarat, Project Chirag enabled women to do mushroom farming, using solar pumps for water and decentralised solar dryers to dehydrate oyster mushrooms, thereby increasing their lifespan. "These villages are too remote for women to sell all the fresh mushrooms they harvest."
A new model they tried had landless women coming together to undertake group farming on rented plots of land, using decentralised solar solutions for agriculture. Another pilot set to start soon is a group gram panchayat in Raigad district of coastal Maharashtra, where women's SHG members will use solar-powered machines to manufacture agarbatti and dhoop (incense). "The vendor who sells them the machines will also buy back their produce, thus completing the cycle," said Pai.
Previously faced with scarce and unreliable conventional energy sources that were predominantly used by men, women-led groups have now been asking Project Chirag for solar-powered libraries, computer centres and adult literacy centres, she said. "We are trying to get a solar-powered mobile van for educational purposes in small villages," Pai added.
Blending Climate And Public Health Goals
Located on the edge of Karnataka's Nagarhole Tiger Reserve in the fragile western ghats, the 'climate-smart health clinic' at Basavanagiri Hadi, 200 km south-west of Bengaluru, was launched in May 2023 with multiple objectives. It would bring together public health and clean energy, but it would also take primary healthcare one step further by offering telemedicine consultations with specialist doctors.
Six months later, doctors from the Vivekananda Memorial Hospital (VMH) in Sargur, Mysuru district, who initiated the clinic as an outreach service for the largely Adivasi population of nine hamlets in a radius of 10 km from Basavanagiri Hadi, found that it had one more outcome—it encouraged health-seeking behaviour.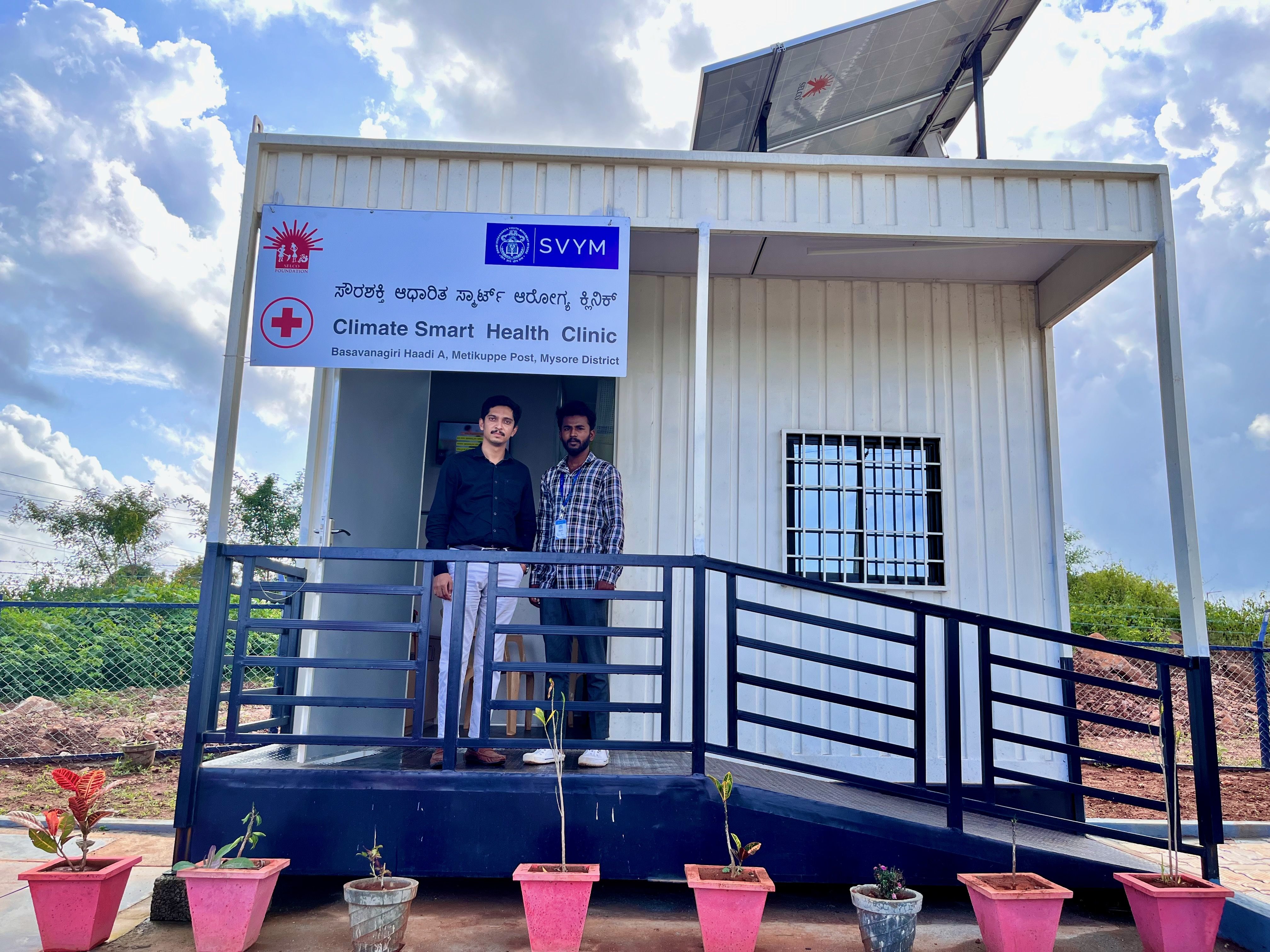 The clinic is a solar energy-powered prefabricated modular structure, its layout and a little courtyard designed to improve ventilation and offer a waiting space for patients' relatives. For the 2,586 residents of the nine hamlets, most of them belonging to the Jena Kuruba, Betta Kuruba, Soliga, Paniya and Yerava scheduled tribes, the nearest primary health centre was at Chakodanahalli, 10 km away. A block-level community health centre at Heggadadevanakote is closer but equally difficult to access.
"There is only one daily state transport bus to Heggadadevanakote, with fixed timings," said Abhishek R, a doctor at VMH who helped plan and operationalise the clinic. "Villagers would have to give up a workday to make the trip there."
Since the tele-clinic opened, residents can undergo basic blood tests, blood pressure monitoring, an ECG test, etc, at the kiosk. A trained operator draws blood, and the solar-powered diagnostic equipment provides results instantly. A consultation is available via video call with a doctor at the 100-bed private VMH, located 25 km away.
The VMH team also planned to train a young woman from a nearby hamlet to operate the kiosk, to build a better rapport with the community. The kiosk also serves as the site for weekly medical camps scheduled according to specialisation, with a paediatrician, obstetrician-gynaecologist and others visiting. The previous day is spent mobilising patients in the villages. "Many villagers tend to ignore health concerns, we encourage them to visit the clinic or the camps," said Abhishek.
The kiosk's caseload was initially low, with 127 patients in the first three months, but by August, they were recording a slow increase in the numbers seeking online consultation.
Some Victories, Many Challenges In Scaling Up
Recent findings show India needs an annual investment of $18 billion in DRE by 2024 to effectively meet the nation's sustainable energy targets. Compounding this challenge, financial institutions have tended to support more conventional DRE technologies such as solar lanterns, solar pumps or home-lighting systems, experts said. This tended to lower profitability and innovation in DRE applications meant for productive use.
Also, state agencies, particularly the rural livelihood missions, have played a crucial role in supporting these applications through incubation, pilot support and seed finance. Manufacturers were unclear if these applications will remain profitable once these incentives are pulled.
Finally, there is the problem of public perception, which favours the more familiar grid-based electricity. A challenge for those manufacturing distributed renewables is to develop business and financing models that trigger rapid deployment and growth in ownership, found a 2017 study.
However, several early victories have been chalked up, and the key among those is that women have adopted DRE solutions whenever presented with the possibility, making these technologies a gender-positive climate action model to enhance livelihoods.
A CEEW study published in May 2023 based on a cross-sectional survey of 767 end-users across 19 Indian states who had access to and used DRE-powered livelihood technologies for at least six months found that 74% of respondents were female because activities such as silk reeling and spinning, use of solar hydroponic fodder units, etc have significantly higher shares of female users.
Among the other heartening findings: 71% of end-users said they had experienced a growth in incomes, typically by about 35%; as many as 86% of respondents experienced increased confidence to work and earn; 88% said they now enjoyed better support from a spouse; 89% of women respondents reported increased participation at events; 93% of women respondents said they had gained relevant knowledge and new skills.
Nearly 95% of respondents had not taken a loan to invest in the new technology but said their increased incomes meant they could repay loans had they been extended such credit.
Before Rajaguruvaiah took a loan to set up her processing unit in Sivakasi block, her group of farmers had toyed with the idea of undertaking it as a group venture but had eventually backed out. She said more people would set up their own businesses if DRE-powered solutions were paired with even cheaper loans.
"We are not habituated to taking a risk," she said. "The solar solution and the credit subsidy are a good cushion."
(Kavitha Iyer is a senior editor with Article 14 and the author of 'Landscapes of Loss', a book on India's farm crisis. This report was supported by the Earth Journalism Network's Content Production and Distribution of Information to Build Awareness about Renewable Energy in India Grant, 2023)
Get exclusive access to new databases, expert analyses, weekly newsletters, book excerpts and new ideas on democracy, law and society in India. Subscribe to Article 14.