Delhi: In May this year, Hindutva groups whipped up a religious frenzy in Uttarakhand after some people caught two men—one Muslim and one Hindu—with a Hindu girl in Uttarkashi district's Purola, forcing some Muslim families to leave.
In the three weeks in which attempts were made to drive Muslims out of the state run by the Bharatiya Janata Party (BJP), hate speeches were made by Hindu extremists like Devbhoomi Raksha Abhiyan's founder Darshan Bharti, Kali Sena's chief, Swami Anand Swaroop, Hindu Raksha Sena's chief Swami Prabodhanand Giri. They asked people not to give their shops on rent to Muslims, congratulated Hindus for teaching "jihadis" a lesson in Purola, asked the government to issue a temporary pass for visitors in Uttarakhand, gave the example of Buddhists in Myanmar taking up weapons in their hands, and said that Muslims would be driven from Uttarakhand like they were driven out from Purola.
Hate speech also came in the form of pamphlets pasted by Devbhoomi Raksha Abhiyan on shops belonging to Muslims asking them to vacate their shops before the proposed Mahapanchayat on 15 June, and also in the form of a letter written by Vishwa Hindu Parishad (VHP) to the district magistrate of Tehri Garhwal announcing that they have given a 10-day ultimatum to people belonging to a "specific community" to leave nine cities of Uttarakhand.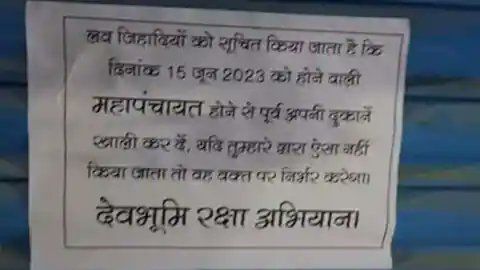 Hearing petitions against hate speech filed by journalist Shaheen Abdulla, a Kerala-based journalist, a BJP leader Ashwini Upadhyay and the 'Hindu Front for Justice', who filed a plea against Muslim extremists calling for the beheading of Nupur Sharma, a former BJP spokesperson, after she insulted the Prophet Mohammad.
Upadhyay had filed a PIL in Supreme Court on 27 February 2020 seeking direction to the centre to take appropriate steps to implement recommendations of the Law Commission's 267th report on hate speech, which came up for hearing on 22 September 2022.
Abdulla filed a petition on 17 October 2022 in the Supreme Court seeking direction to the Centre and state governments to start an independent and impartial probe into the incidents of hate crimes and speeches and to initiate action under the Unlawful Activities Prevention Act and other relevant laws against those engaging in the same.
Abdulla had mentioned in his petition "an unending flow of hate speeches being made by various persons against the Muslim community", which the Supreme Court called "very serious".
The Supreme Court, on 21 October 2022, ordered the states of Delhi, Uttarakhand and Uttar Pradesh to register suo motu FIRs against instances of hate speech, even if no complaint is forthcoming and proceed against the offenders in accordance with the law.
The Court said in its order, "We feel that this Court is charged with the duty to protect the fundamental rights and also preserve the constitutional values and the secular democratic character of the nation and, in particular, the rule of law."
The Supreme Court, on 13 January 2023, said, "This is a complete menace and nothing short of it. We should all be careful about the seriousness of hate speech... We should not end up creating a Frankenstein's (monster) that will gobble (us) up".
The Supreme Court said, "Anchors can be taken off the air too," and "Channels are competing against each other. They sensationalise and create divisions in society because of the visual element. The visual medium can influence you much more than a newspaper."
The Supreme Court, on 29 March 2023, said that hate speech is happening because the "State is impotent, State is powerless, State doesn't act in time".
The Supreme Court on 28 April 2023 extended its October 2022 order. It directed all the states and union territories to register suo motu FIRs against hate speeches even if no complaint was received.
The Supreme Court said, "Such action will be taken irrespective of the religion that the maker of the speech or the person who commits such act may profess", and "any hesitation to act in accordance with this direction will be viewed as contempt of this Court, and appropriate action will be taken against the erring officers".
On 3 February 2023, Shaheen Abdulla filed a petition in Supreme Court seeking a ban on the meeting of a Hindu extremist organisation 'Sakal Hindu Samaj' in Maharashtra, on 5 February 2023, citing their previous event in Mumbai on January 29, where anti-Muslim hate speeches were made.
Appearing for the Maharashtra government, Solicitor General Tushar Mehta opposed this plea and said this amounted to "pre-speech censorship". He accepted the decision for the Maharashtra government to videograph the 5 February event. Still, he added that "ideally, the public-spirited people should record, who come selectively and abuse this court's jurisdiction".
In March 2023, when Shaheen Abdulla filed his third petition in the Supreme Court seeking contempt against Maharashtra for failing to take action against hate speeches, Mehta said in court, "Why petitioner Shaheen Abdulla from Kerala is blind to hate speeches close to his home? Why is he seeking to target one community in one particular state? If he is genuinely public-spirited, he must bring on record all instances of hate speeches across the country, irrespective of religion and state."
Mehta also asked the court to take up the matter only when the petitioner puts together hate speeches made by people from all communities across the country.
The suo moto FIR in connection with the hate speeches in Uttarakhand was registered on 5 June 2023 under Sections 153A (promoting enmity between different groups on grounds of religion), 505(1)(c) (intent to incite, or which is likely to incite, any class or community of persons to commit any offence against any other class or community), and 506 (Punishment for criminal intimidation) of the Indian Penal Code, 1867.
The was registered against unknown persons accused of pasting pamphlets on shops belonging to a "particular community", asking them to vacate their shops before the proposed mahapanchayat on 15 June 2023. It didn't name anyone even though the pamphlets had written on them, 'Devbhoomi Raksha Abhiyan', which Darshan Bharti founded.
On 14 June 2023, a civil rights body, The Association for Protection of Civil Rights, moved the Supreme Court through advocate Shahrukh Alam to prevent the mahapanchayat.
The Supreme Court asked the petitioner to move the Uttarakhand High Court.
On 15 June 2023, Alam told the bench of Chief Justice Vipin Sanghi of the Uttarakhand High Court about the hate speeches made in different parts of the state and sought directions to stop the mahapanchayat. Representing the Uttarakhand government, advocate general SN Babulkar informed the court that it was called after the state intervention.
Alam sought an FIR against signatories of the VHP letter asking people from a "specific community" to leave certain parts of Uttarakhand in 10 days and also against Devbhoomi Raksha Abhiyan. The Court refused to issue such directions and said it is "for the police to examine whether the commission of the cognisable offence is disclosed".
Article-14 spoke with senior advocate Chander Uday Singh, who has argued human rights matters in the Supreme Court, including the decriminalisation of sex between adults of the same sexual orientation, and is currently arguing for bail for political activist Umar Khalid, about why hate speeches are not stopping despite the Supreme Court calling for states to stop them.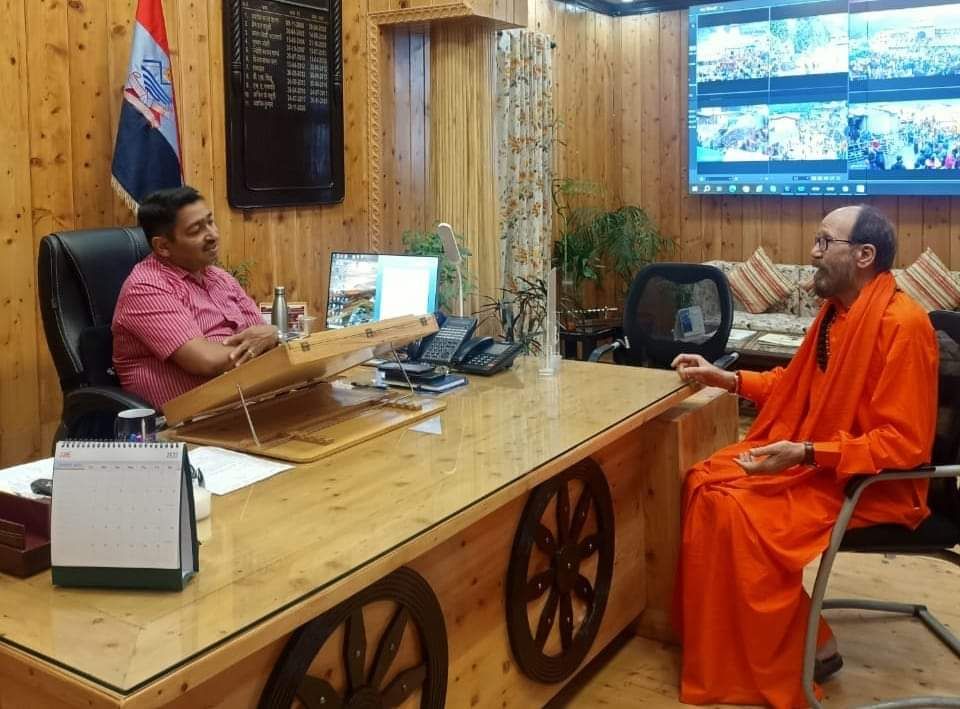 The Supreme Court, on 28 April 2023, ordered the states to register suo motu FIRs against hate speech. But in Uttarakhand's Purola, for at least 20 days, hate speeches kept happening in rallies against Muslims, and some Muslims had to flee. Is the Supreme Court not taken seriously?
The Supreme Court issued the orders. What has happened is that when the Supreme Court tried to carry it forward, there was so much resistance from the government. It was very unfortunate that the government tried to attack the Supreme Court, particularly the bench of Justice K M Joseph and tried to make a spectacle of everything by doing whataboutery —what about hate speech by other communities? Instead of dealing with the situation that action should be taken against all kinds of hate speech, they indulged in whataboutery.
When the invitation letter for a rally says, 'We have to drive out the Jihadis (Muslim community) from Yamuna Valley', can such a rally be allowed under freedom of speech?
This cannot be permitted. This amounts to incitement of genocide, saying that a particular community should be removed from an entire area. Where is the question of this being a protected form of speech? The state is absolutely responsible for taking action against such acts. The state is failing in its duty by not taking action. The Supreme Court had issued similar orders in the Tehseen Poonawalla case. On 3 January 2023, a five-judge bench of the Supreme Court in the Kaushal Kishore case held that hate speech is not a protected form of speech under Article 19 (a) of the constitution.
So the law is very clear. A speech that results in fomenting violence and tends to foment violence against one community or to spread hatred, which could be an incitement of genocide, is not protected. India is a signatory to the United Nations Convention on Prevention and Punishment of the Crime of Genocide. And under the Genocide Convention, this action [as] in Uttarakhand is an incitement to genocide.
(In the Tehseen Poonawala case, in which directions were sought to take "immediate and necessary action against the cow protection groups indulging in violence", the Supreme Court on 17 July 2018 asked the Parliament to enact a law to deal with mob lynchings and also issued a set of directions for the state governments, such as designating a senior police official in each district for taking measures to prevent incidents of mob lynchings).
(In August 2016, then Uttar Pradesh Minister Azam Khan called the alleged gang rape of a girl and her mother a "political conspiracy against the Uttar Pradesh government". Her father, Kaushal Kishore, moved the Supreme Court in August 2016, seeking action against Khan for his remarks. On 3 January 2023, a constitutional bench of the Supreme Court held that Article 19 (right to freedom of speech) and Article 21 (right to life and personal liberty) of the Constitution of India are enforceable against persons other than the state or its instrumentalities.)
Wasn't it the state's duty to prevent the mahapanchayat and the hate speech leading up to the mahapanchayat?
If the state is not taking action against hate speeches intended to destroy a community's livelihoods and living places or to dislodge one community from an entire area. In that case, the High Courts and Supreme Court must step in. They should definitely step in. According to Article 2 (c) of the United Nations Convention on Prevention and Punishment of the Crime of Genocide, 1948, one of the forms of genocide is deliberately inflicting on the group conditions of life calculated to bring about its physical destruction in whole or in parts. That is precisely what this is when you call for a community to be removed from one area.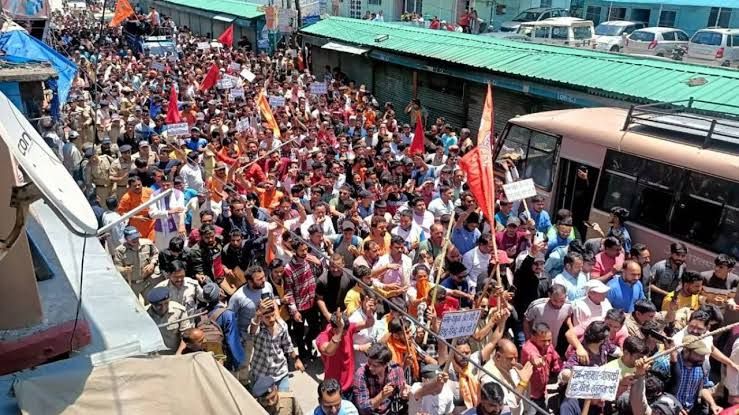 The letters circulated on social media or addressed to the DM of Tehri Garhwal asking to remove a particular community from an entire area were all signed (by Hindutva organisations). But even then, no action was taken against them. Should there not have been FIRs registered against the signatories immediately?
It should be done. Failure to do so makes the state complicit in generating more such actions. If you don't take action initially, it generates more such actions.
How can the Supreme Court ensure that the states implement its order on hate speech?
The constitutional courts must intervene when such incidents occur. If the states do not take action, then the constitutional courts have a duty to step in and ensure that the action is taken.
Why is it that despite the Supreme Court ordering the states to register suo motu FIRs against hate speech, hate speeches against minorities are not stopping?
Hate offenders are getting away with it because nobody takes action against them. Unless some action is taken and the courts enforce their own orders, the government feels it can get away with it. It's happening all across the country.
(Kaushik Raj is a freelance journalist and poet based in Delhi).
Get exclusive access to new databases, expert analyses, weekly newsletters, book excerpts and new ideas on democracy, law and society in India. Subscribe to Article 14.