Prayagraj, Uttar Pradesh: More than half of all first information reports (FIRs) alleging forced conversion to Christianity in Uttar Pradesh (UP) have no legal standing and should never have been registered by the police, an Article 14 study of 101 FIRs has revealed.
Sixty-two percent of FIRs (63 of 101) alleging such conversion to Christianity are registered in response to complaints by third parties (other than the accused or victim), including Hindutva outfits, such as Bajrang Dal and Vishwa Hindu Parishad (VHP) and members of the Rashtriya Swayamsevak Sangh (RSS), contrary even to the provisions of the state's controversial law on the subject.
Section 4 of the Uttar Pradesh Prohibition of Unlawful Conversion of Religion Act, 2021 makes it clear who can complain: "Any aggrieved person, his/her parents, brother, sister or any other person who is related to him/her by blood, marriage or adoption may lodge a First Information Report of such conversion."
This means that only a person who has been forced to embrace any other religion or blood relative of that victim can approach the police to register an FIR.
"The traditional outlook in criminal cases is that under the IPC (or Indian Penal Code), anyone can report a crime and has a right to file a complaint," said Shashwat Anand, a lawyer based in Prayagraj, representing petitioners who had challenged the constitutional validity of anti-conversion law in the Allahabad High Court in December 2020.
"But in the case of conversion, there is a special law specifying who can approach the police machinery," said Anand. "And if the law specifically enumerates a class of people who can file a complaint, then such FIRs filed by the police that are not legally sustainable would form a ground for the challenge in any court of law."
In January 2023, the National Federation of Indian Women challenged the anti-conversion laws of eight states as being arbitrary, unconstitutional and allowing State intrusion into private lives.
This is the first of a three-part series investigating how UP's anti-conversion law is being deployed. The second part shows district court judges were giving bail because of poor investigations, and FIRs were based on complaints by Hindu extremists, not the victims. The third part reveals how Muslims are the main targets of "love jihad" accusations and are almost always refused bail by local courts.
Behind The FIRs
We have divided the 101 FIRs into four categories based on the complainant—victim, police personnel, Hindutva outfit/RSS or BJP member and third person.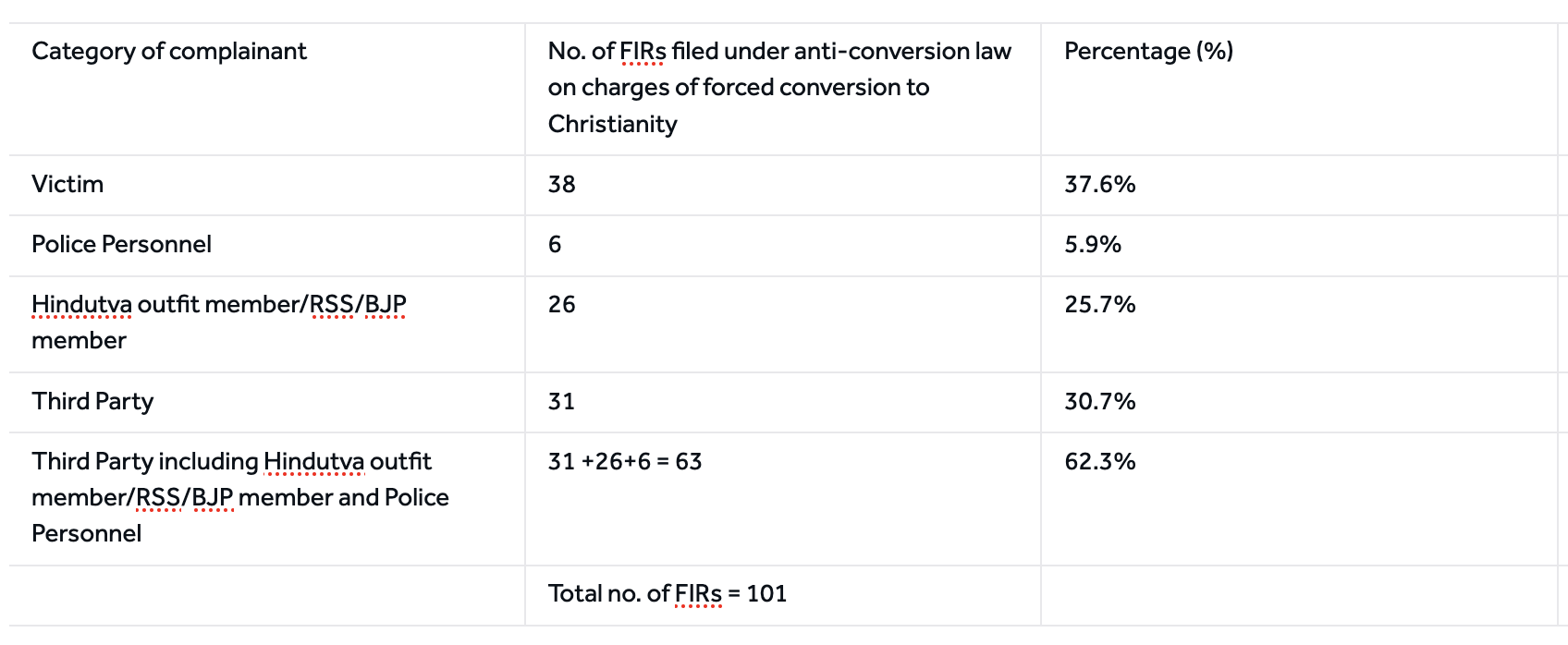 Sixty-three FIRs registered after complaints by third parties, which includes 26 complaints from Hindutva parties, reflect three trends:
Firstly, 31 FIRs out of the 63 FIRs based on third party complaints were based on "prior information" about the illegal conversion, which is a way for them to become complainants. They claim to have reached the spot where they see people being offered allurements or Christians proclaiming Christianity to be better.
Secondly, 20 FIRs from third-party complaints (and 23 out of 101 FIRs) refer to the recovery of the Bible and literature related to Christianity as grounds for an alleged act of forced conversion. Thirdly, 25 FIRs from third-party complaints (and 32 out of 101) are identical with the use of similar phraseology, thus giving a sense of cut-copy-paste complaints.
Speaking on the role of the police, the former director general of police Vikram Singh for UP told Article 14, "When the provisions of section 4 have not been complied with, I expected a lot better that they should do their homework. If the complaint is not by the victim and his/her blood relative, then the police should have expunged the case, which, according to your study, has not happened."
"If such false or fake cases are registered, which end up getting strictures from the court, then that's counterproductive," said Singh.
The PIL against the UP's anti-conversion law, where Anand appeared before the Allahabad High Court, contended that the provision of the ordinance gave policing powers over a citizen's choice of life partner or religion and, therefore, militated against the fundamental rights to individual autonomy, privacy, human dignity and personal liberty guaranteed under Article 21 (right to life and personal liberty) of the Indian Constitution.
Petitions challenging the Act are pending before the Allahabad High Court and the Supreme Court.
In May 2023, additional director general law and order, Prashant Kumar, told reporters that the Uttar Pradesh police had registered at least 433 cases under the anti-conversion law since its inception in 2020.
Section 5(1) of the Act prescribes the punishment, which includes a minimum prison term of one year and a maximum one of up to 10 years along with a fine.
A Draconian Law
An oft-repeated phrase in complaints filed by third persons, including members of the Hindutva outfit is "soochna mil rahi thi" (we had prior information) with respect to an alleged conversion at someone else's place, which is a reference to the congregation for a prayer meeting in most cases.
Allowing such loosely worded complaints that do not describe precise circumstances of forced conversion, if any, means that a third person can easily become a party in the case.
Things get complicated further since Section 12 of the anti-conversion law puts the onus on the accused to prove they are innocent.
"Such language means that the law becomes a tool in the hands of the police and people, resulting in bogus FIRs", said Anand, the lawyer.
The Case Of Pastor Paras
On 18 September 2022, an FIR was filed at Azamgarh's Sidhari police station under sections 3 (prohibition of conversion from one religion to another religion) and 5(1) (punishment for contravention of provisions of section 3) of UP's anti-conversion law.
Section 3 defines the means of conversion which would be considered illegal: misrepresentation, force, fraud, undue influence, coercion, and allurement.
The complaint was filed by Vipin Singh Paliwal, district president of the Hindu Jagran Manch, an affiliate of the RSS.
"I have received information that a person has been carrying out religious conversion in the Harijan basti of Gelwara village. When I reached there along with my friend Vikrant Singh, at around 1 pm, we saw one person trying to lure people with the offer of money and trying to frighten them with tales about ghosts," Paliwal has been quoted in the FIR.
Fifty-year-old Pastor Paras, the accused, spent 19 days in jail in Azamgarh.
Recalling the events of that day, while speaking to Article 14, Paras said, "A local pastor had been calling me for quite some time to conduct a prayer meeting. So, I went that day and participated in a prayer meeting that included singing devotional songs and reciting verses from the Bible. After spending 30 minutes, I noticed some people were making videos, and when I was leaving the place, that's when the police arrested me."
Paras works as a labourer and has been a believer in Christianity since 2001.
The complainant said that "he was reading from a book and trying to inspire people for conversion".
Paras said all he did that day was a recital of Verse 7 related to Marcus from the Bible.
Hindutva Outfits In The Fray
Use of similar phraseology is another pattern visible in FIRs filed by the members of Hindutva outfits.
Out of 26 such FIRs, 15 begin with exactly similar words stating that the complainant "had prior information or received information" regarding the alleged act of forced conversion.
Even though this is unrelated to who can file a complaint against conversion as prescribed under section 4 of the Act, the police have allowed it to become a lateral entry for third parties posing as victims, giving way to the vigilantism by Hindutva outfits.
Lines like "such acts of forced conversion could result in aakrosh (anger) among local Hindus" have also been repeated in many such complaints.
Sample two such almost cut-copy-paste FIRs filed in the district of Ambedkarnagar.
On 4 September 2022, an FIR was registered at Ambedkarnagar's RajeSultanpur police station after a complaint by Rajnish Singh, district president of the youth wing of Hindu Jagran Manch.
Four persons, including three women, had been named in this FIR.
"I came to know that Lal Bihari, along with his wife Gyanmati and daughter-in-laws Kavita and Neeta Rajbhar, have been carrying out religious conversion at their house with the Bible and a photo of Lord Jesus kept there. Around 35 women and children were present inside as well as outside Rajbhar's house," said Singh in his complaint.
The FIR does not have any version of the event from those 35 men and women who had gathered that day.
The complaint further concluded by stating, "There is a possibility that this might disturb the communal harmony and disturb the peace, and there is aakrosh (resentment) among Hindus. Hence, legal action should be taken in this case."
Speaking to Article 14, Hindu Jagran Manch member Rajnish Singh said, "There were 150-200 persons present there. They all had been hypnotised. They were promised money in lieu of going against the Hindu religion. Doesn't this come under conversion?"
In an identical FIR, dated 24 January 2023, filed at Ambedkarnagar's Jalalpur police station, district BJP president Chandrika Prasad claimed, "the complainant came to know that two persons—Jose Pappochen and Seeja—had been carrying out the conversion of those belonging to the Dalit community by offering them allurement for the last three months.
There is a lot of aakrosh (resentment) among people regarding this, while those from the Dalit community are hurt hence, necessary legal action should be taken.
Jose Pappochen and Seeja spent almost seven months in jail based on this complaint.
Speaking to Article 14, the complainant in this case, Prasad, who has been with the BJP since 2017, said, "These persons brainwash people. First, they will teach for a month or two, then they hypnotise people to such an extent that people oblige them. What does a poor man know about religion?"
According to a report in the Times of India, on 7 September, the Lucknow bench of the Allahabad High Court granted bail to Pappochen and Seeja and observed, "Providing good teaching, distributing the holy Bible, encouraging children to get education, organising assembly of villagers and performing bhandaras (free community meals), and instructing villagers not to enter into altercations and not to consume liquor do not amount to allurement under the 2021 (anti-conversion) Act."
What Is Conversion?
Confusion as to what constitutes an act of conversion is also evident in most of the FIRs.
A Lucknow-based lawyer, who spoke on the condition of anonymity, said of the FIRs he has seen, "Not a single FIR mentions the method of conversion."
In Sitapur, three FIRs registered in response to complaints by Bajrang Dal members are absurd when it comes to allegations of forced conversion.
On 15 September 2021, an FIR was filed at Sitapur's Ramkot police station following a complaint by Saurabh Awasthi, district coordinator of Bajrang Dal and Vishwa Hindu Parishad.
Vinod Satimadhe, 41, who lives in Balaghat district of Madhya Pradesh, was named in the FIR.
Awasthi alleged that "Vinod used to lure people into embracing Christianity under the garb of selling products of RCM Company."
Satimadhe, who converted to Christianity in 1999, told Article 14 that his work involved networking with people since he works with a consumer goods company, and his job entails purchasing a whole stock of daily-use items and then delivering it to households as per orders received.
"I was on a trip to Sitapur and was distributing items. A crowd had gathered, and someone requested me to recite a prayer for well-being, something I did, following which members from the Vishwa Hindu Parishad emerged from the crowd and took me to the police station," Satimadhe said.
In another FIR filed at Sitapur's Sakaran police station, dated 20 December 2022, Bajrang Dal's block-level coordinator Kamalkant Awasthi had alleged that "three persons were trying to carry out conversion by sprinkling water and making a cross sign."
Those named in the FIR were Shravan Kumar Gautam, Shrikishen and Gangaram.
Recalling the events as they unfolded that day, Shravan Kumar Gautam said, "I had been invited to address a prayer meeting after a gap of almost two years. After I reached there, those from the Thakur community didn't like the fact that such a congregation had been organised. There was a local reporter from amongst them (Thakur community) as well who clicked a photo and put it in a WhatsApp group, after which the police arrived on the spot."
Gautam, who spent two months in jail, said, "Now I often refuse to attend such programmes."
The third FIR was filed in Sitapur's Tambour police station on 25 December 2022. The complainant, Seenu Mishra, Bajrang Dal coordinator, had been quoted in the FIR as saying, "The opposite party, Mayaram, used to invite foreigners to the village for the purpose of offering allurement to Hindus and carrying out religious conversion."
Saying "Bad Things"
A common strand in some FIRs filed by Hindutva outfit members is the allegation that any form of disrespect to Hindu gods, too, has been counted as a means of forced conversion.
On 29 May 2022, Vipin Singh, a member of the Hindu Mahasangh as well as the RSS, filed a complaint against Mohreel for "propagation of Christianity and criticising Hindu religion".
This, according to Singh, amounted to "inciting men and women to undergo religious conversion".
In an FIR filed at Azamgarh's Kandhrapur police station, Vipin Singh was quoted as saying, "When the complainant along with Samar Singh reached Mohreel's place, around 50-60 men, women and children were present, and he (Mohreel) was saying bad things about Hindu religion and praising Jesus. When the complainant's religious feelings were hurt, and he resisted, money was offered in lieu of conversion."
A family member of Mohreel, who didn't want to be named, said, "There was a marriage in the family, so all of us had gathered at the church. Someone from the mandali (Bajrang Dal) told the police that conversion was being done there. At first, 10 to 12 men from among them (Bajrang Dal) came and left after asking a few questions, then the police arrived and confiscated all the Bible books we had and filed a conversion-related case."
In yet another FIR filed at Azamgarh's Phulpur police station, Bajrang Dal district coordinator Prashant Singh alleged, "Out of curiosity, when the complainant reached the spot, he saw that Hindu religion was being criticised and verbal abuses hurled at gods and goddesses. These persons (referring to the accused) have been carrying out religious conversions like this, and they offered me allurement as well to do the same, following which my religious sentiments were hurt."
The two persons named in the FIR were Harkhu Ram and Acche Lal.
At Ghazipur's Kotwali police station, Dinesh Chandra Pandey, a member of the Vishwa Hindu Mahasangh, in his complaint dated 2 April 2023, alleged, "Some Christian preachers were trying to instil fear in the followers of Hinduism in a deceitful manner thus, trying to cause harm to national integrity. This information was passed on to BJP leaders like Yogendra Singh and others. When we reached the spot, Pastor Vipin and others were saying bad things about Hindu gods and goddesses and tried to attack us with a sharp weapon."
Identical FIRs
In 2022, between September to December, three FIRs registered at different police stations in eastern UP's Kushinagar district were identical.
In one FIR dated 7 September, the complainant, sub-inspector Awanish Kumar Yadav, claimed to have "received information" that some persons gathered at Chirkuttha village "were spreading superstitions under the guise of a grand prayer meeting for Jesus Christ".
Two days later, on 9 September 2022, in another FIR registered at Kushinagar's Jattha Bazar police station, sub-inspector Kailash Prasad came to know, "people have been gathering at Chandrabhan Kushwaha's house and that superstitions are being spread under the guise of a grand prayer for Jesus Christ".
Both the complaints said that "people were told that all curable as well as non-curable diseases would be cured and their problems related to black magic could be overcome by praying to Jesus. This is resulting in tension and aakrosh (resentment) among locals".
In the third FIR registered on 18 December 2022 at Vishunpura police station, constable Surya Pratap Singh said, "a mukhbir (informer) told us that in Barwa Babhnauli village a woman has organised a gathering related to Christianity and has been spreading superstition under the garb of offering prayer to Jesus Christ".
According to Singh, the woman named Abya Khatoon, "stated she is able to cure people of illnesses and also recite from the Bible. By building such an atmosphere of superstition, an attempt is being made at religious conversion".
First of a three-part series. You can read the second part here and the third part here.
(Akanksha Kumar is a Delhi-based multimedia journalist who received the Human Rights and Religious Freedom Journalism Award in 2022.)
Get exclusive access to new databases, expert analyses, weekly newsletters, book excerpts and new ideas on democracy, law and society in India. Subscribe to Article 14.