Updated: Jan 24
Mumbai, Clermont Ferrand: At around 4 pm on 20 June 2020, nearly four months after communal riots engulfed parts of northeast Delhi, Ragini Tiwari, a middle-aged woman from Bihar, held a phone to her face and went live on Facebook.
A broken fan whirred loudly in the background, as her eyes fixed on the lens. Dressed in a red, green and black sari, a large saffron tilak gleamed on her forehead. She introduced herself, letting everyone know she also goes by Janaki behen or sister Janaki. Then, she urged everyone to share the livestream widely.
The day's topic was Jaffrabad, the self-styled Hindutva leader said, talking about a northeast Delhi neighbourhood. She first surfaced on national media days after the Delhi riots broke out there in February, when Facebook videos of Tiwari directing a crowd to kill Muslims went viral.
"Yes, for my country and religion, I cleaned out Jaffrabad, and I don't regret it. If I stay alive, then I vow that every time Shaheen Bagh and Jaffrabad [situations] are created, I will clean them out again, in my style,'' she said, alluding to protests against the Citizenship (Amendment) Act, 2019, in these areas and the violent riots that followed.
In the video lasting 23 minutes, interspersed with couplets praising Ram in Maithili, the pro-CAA protester blamed the kathmulle—a derogatory slang for Muslims—for conspiring with the "electronic media" to have her arrested for inciting violence. She appealed to her followers to deliver the threat of conspiracy against her to the "Hinduvadi sarkaar", the Hindu government.
"I had led the clarion call for Hindutva from Jaffrabad...,'' she said. "I am determined, my Bharat will be jihadi-mukt (free of jihadis)... Ragini Tiwari is not afraid to die, because the title you have bestowed upon me is veerangana (warrior) and veeranganas are fearless."
As of 1 October, the Facebook Live video had recorded 18,000 views and remains available. On 30 September, Article 14 reported all the videos mentioned in this story to Facebook to review for hate speech and violent threats, but there was no response to the day this story was published.
A few weeks before Tiwari resurfaced on the platform, her friend Anjali Verma, another pro-CAA protester, posted a Facebook live video on 30 May, urging her 12,000 followers to support Hindutva women like her who were stepping out of the traditional role of a homemaker.
"Since the time Ragini Tiwari didi, me and two others held a demonstration in support of CAA in Maujpur… Jaffrabad got cleaned out, Chandbagh got cleaned out and after that we started to be a sore in some people's eyes…It was necessary to get them cleaned out otherwise our country's condition would have worsened by now,'' she said, beaming as she recalled the memory.
On 23 February, the day the riots broke out, Verma posted a call to arms on Facebook twice. The messages are still publicly visible: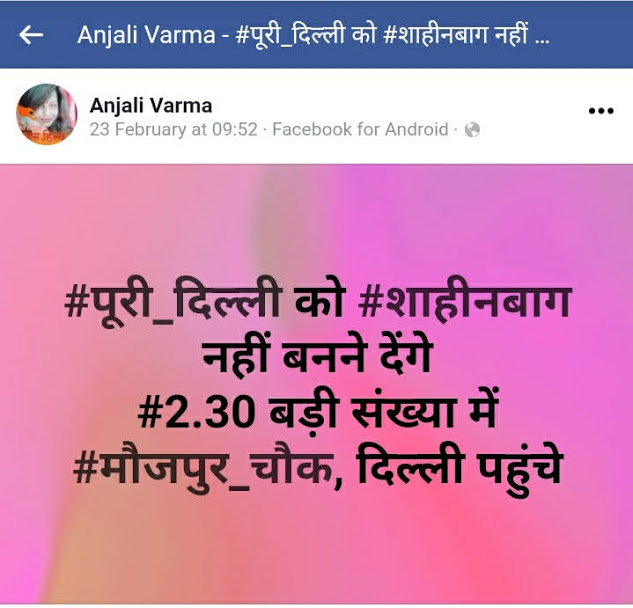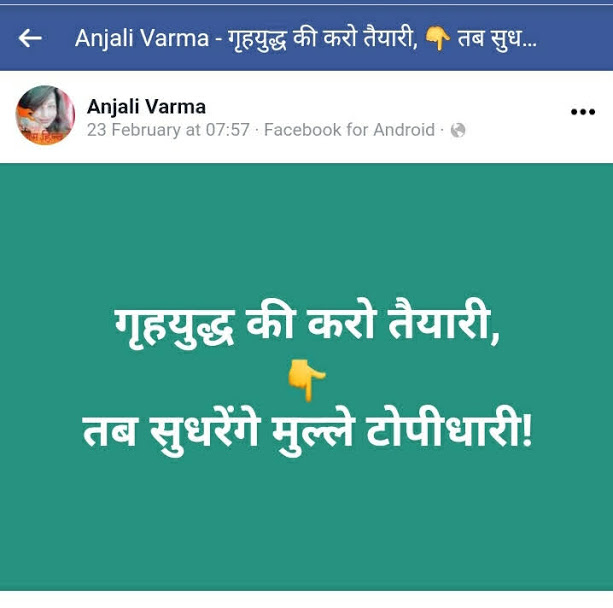 On 7 March, in another post she wrote, "I am not a hardliner…but when it comes to my country and Hindu religion, then you may consider me 'saffron terrorist'. Jai Shri Ram.''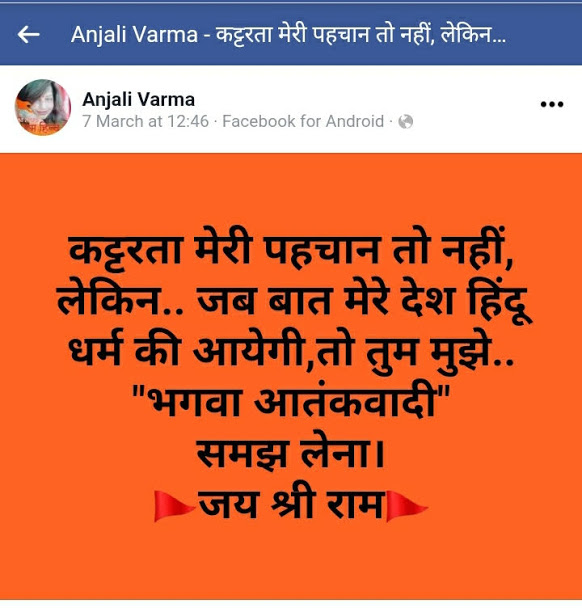 Verma reminded her viewers to also follow a second page, 'Anjali Hindu'. She said her original Facebook page frequently gets reported, blocking her from using it for at least two months. She then thanked an anonymous local assistant police commissioner for helping her remove a fake Facebook page of herself that her enemies had allegedly created.
Like Tiwari and Verma, there are dozens of radical Hindu right-wing groups and Hindutvawadi leaders on Facebook who posted provocative anti-Muslim messages and videos in the days leading up to the Delhi riots in February, revealed an Article 14 investigation into the platform.
A closer analysis of 10 of these fringe accounts, which are part of the online right-wing network and have between 700 to 35,000 followers, revealed that despite the content visibly violating Facebook's policies on dangerous hate speech, many remain publicly visible even today.
The posts and videos, all in Hindi, confirm their presence at pro-CAA protests at Maujpur, northeast Delhi in the run-up to the violence in nearby Jaffrabad, with some users like Tiwari and Verma openly acknowledging their direct involvement in "cleaning out the anti-national protesting sites.''
While the Delhi police allege the riots were a pre-planned conspiracy, these accounts, posts and videos find no mention in their 10,000-page chargesheet filed on 16 September 2020.
Relying heavily on the evidence from WhatsApp chats in areas around protests for and against the CAA, the police said they found no proof that pro-CAA protesters were involved in the riots. Instead they argued that anti-CAA protesters at Jaffrabad metro station started the violence by pelting stones after an argument broke out with pro-CAA protesters near Maujpur station, a km away.
What The Delhi Police Say, What Facebook Reveals
So far, the Delhi police have filed charges against 15 anti-CAA protesters including Umar Khalid, part of United Against Hate (UAH) group, and Natasha Narwal and Devangana Kalita of the women's rights collective Pinjra Tod. The police have applied various sections of the Unlawful Activities (Prevention) Act (UAPA), 1967 for allegedly delivering provocative speeches, rioting, unlawfully assembling and section 120B of the Indian Penal Code (IPC) for criminal conspiracy.
Public records of speeches show Khalid addressed a rally in Amravati, Maharashtra on 17 February in which he said: "We will not respond to violence with violence. We will not respond to hate with hate.''
An Article 14 analysis found that pro-CAA Hindutva groups—not local residents—organised a sit-in protest at Maujpur, the site of the violence from the morning of 23 February, in response to anti-CAA protests and continued to arrive at the spot 24 hours later.
On the day of the riots, Tiwari arrived at Maujpur accompanied by people carrying "big guns," one eyewitness told the Delhi Police, The Quint reported on 30 June. While giving her speech, she fired gunshots into the air causing chaos.
Another report by ABP news said Tiwari led the charge of the assembled crowd and vitiated the ground atmosphere with spiteful speeches that streamed live on Facebook. These speeches alongside those by BJP leaders and others are also mentioned in a Delhi Minorities Commission fact-finding report.
"The violence followed an organised and systematic pattern...mobs chanting different common slogans, like Jai Shri Ram and even Har Har Modi, Modiji kaat do in mullon ko, Aaj tumhe aazadi denge, selectively attacked Muslim individuals, houses, shops, vehicles, mosques and other property,'' the report said.
Tiwari's Facebook account was suspended after her live videos of CAA supporters clashing with anti-CAA supporters around Maujpur, went viral on 23 and 24 February.
After resurfacing in June, Tiwari claimed she was able to dodge charges of conspiracy and provoking violence, with help from the Hindu Welfare Board, a Patiala based NGO, that is providing free legal assistance for her case.
On 24 September, Article 14 sought comment over mail and phone from the Commissioner of Delhi Police Sachidanand Shrivastava and special cell DCP Pramod Singh Kushwah about our investigation findings, sharing video links. We followed up with reminders over eight days, but did not receive a response.
We will update this story if and when the police do respond.
When Article 14 told Facebook about incendiary content on their platform in violation of its own "community standards", the company, through a spokesperson, issued a statement that did not not

specifically address hate-speech by Hindutva groups

.
The spokesperson said Facebook had "clear standards and policies against hate speech'' and banned hateful content targeting anyone "by religion, ethnicity, nationality, caste, etc".
"We use a combination of technology, reports from the Facebook community and fact checking partnerships to help us detect and remove content that violates its policies," said the spokesperson. "While we know there is more to do, we're making progress on enforcement and conducting assessments of these efforts."
Facebook's Slow, Often Absent, Response To Hindutva Hate Speech
Facebook, which has over 290 million active users in India, its largest audience, introduced community standards in 2018 prohibiting "threats, statements and calls of intent to commit high-severity violence'' to "prevent potential offline harm that may be related to content on Facebook.''
Currently, the platform has automatic hate speech-detection algorithms for posts in Hindi, Bengali, Urdu and Tamil only. For the rest it depends on human moderators to review content flagged by other users.
In June, Facebook CEO Mark Zuckerberg referred to BJP leader Kapil Mishra's speech threatening anti-CAA protestors as a clear example of dangerous hate speech. However, the platform's slow and often absent response to several such live videos linked to Hindutva groups accounts, has facilitated the spread of this content, experts say. Earlier this month, the Delhi legislative assembly committee on peace and harmony, said Facebook is 'prima facie guilty of a role in the Delhi 2020 riots'. Facebook and Facebook-owned WhatsApp failed to check BJP leaders and affiliate organisations for hate speech, it noted.
Maya Mirchandani, senior research fellow at the Delhi-based think tank Observer Research Foundation working on tech and extremism and professor of media studies at Ashoka University said Facebook's community standard guidelines are such that it requires users to act against and report harmful content.
"In the current political environment, there is a lot of insidious, borderline content that is flying under the radar of "hate speech definitions'' that does not necessarily get flagged, allowing it to remain online,'' Mirchandani said.
In such cases, Facebook needs to be proactive to ensure that its platform is not weaponised against any individuals or groups.
"If there is evidence that the action [posts, Live videos] on Facebook resulted in reaction on the ground, then there should be a legal case against the platform," she said.
"India's over 80-percent-strong Hindu population, with their sheer numbers, have the power to spread narratives that paint minorities as the enemy," said a 2018 ORF report on digital hatred and majoritarian violence on social media. The ORF report noted "the trajectory from hate speech to an act of violence and the presence of social media influencers who are able to direct conversation and emotion with a single tweet or comment''.
Facebook India did not respond to specific Article 14 questions linked to the live videos on the Delhi riots, although it reviewed the links we shared and removed them from the platform for violating "community standards".
The links removed include a

fake video

of a Muslim fruit seller framed for spreading COVID-19, a video alleging that Indian Muslims were spreading the coronavirus, and a video of an axe-wielding sadhu or holy man threatening violence in the wake of a April mob lynching in Palghar, Maharashtra, with one million views.
Links not found violating Facebook guidelines included BJP MP Ananthkumar Hegde's post in Kannada accusing the Islamic Tablighi Jamaat organisation of spreading coronavirus as a part of its strategy to Islamise the world and singer Kavi Singh's (246,000 followers)video appealing to the government to not waste money to treat Muslims for Covid-19.
Copycat Posts, Live Videos Call For Holy War
Radical Hindu right-wing groups and accounts have been particularly active since 11 December when the Parliament passed the CAA, our investigation into 10 fringe Facebook accounts shows.
Through posts and live video, these Facebook profiles document their participation in rallies supporting the CAA, their campaigns against Muslim women protestors at Shaheen Bagh, and to rally Hindus to "save the country and religion from the anti-national CAA opponents and jihadi brigade".
Deepak Singh, an aspiring Hindutva leader, affiliated with the RSS and Bajrang Dal, has been active on Facebook as Deepak Singh Hindu (deepaksinghvip007) since 2018. On the morning of 23 February, he went live on the platform using the hashtag #पूरी_दिल्ली को #शाहीनबाग नहीं बनने देंगे (won't let all of Delhi turn into Shaheen Bagh), and appealed to all Hindus in the National Capital Region to assemble in large numbers at 2.30 pm at Maujpur chowk for a 'dharm yuddha' (religious war).
The video is still visible.
"Thousands of 'jihadi-minded' people opposing CAA/NRC have blocked two roads in Jaffrabad and are demanding freedom like Jinnah did. It is better to die as men than stare and do nothing like eunuchs,'' he said in the 35 minute-long video that had 91,000 views as of 1 October.
"It's Sunday today, all my Hindu brothers and sisters leave your work aside…take a metro or drive in your car and arrive in big numbers in Maujpur chowk to strengthen the side of nationalists against the anti-nationals,'' he said.
In the last 12 months, Singh has posted at least 90 such videos on issues that include: removing roadblocks during namaz or prayers; seeking population curbs on Muslims; the supremacy of the Hindu faith; Babri Masjid, love-jihad and Valentine's day.
A closer look at his videos revealed a resemblance with at least five other videos from other Facebook accounts claiming to be warriors and saviours of the Hindu religion.
All live videos begin with the greetings of 'Jai Sri Ram', `Har Har Mahadev', 'Jai Bharat' or 'Vande Mataram'; the speakers call themselves religious warriors, and claim their only aim is to protect India, the Hindu religion and establish a Hindu rashtra or nation.
The messaging in these live videos turned more political December 2019 onwards, we found. Singh and other users put out similar videos criticising anti-CAA protesters, particularly naming those in Delhi's Shaheen Bagh. These videos borrow their messaging from BJP leaders and other larger Hindu right-wing social media accounts to make the same points about Muslims, the CAA and "anti-nationals".
After Singh asked for violence against anti-CAA protesters in a 23 February video, the Delhi police put him under house arrest to prevent him from reaching Maujpur.
Facebook did nothing. Instead, on the day of the riots, Singh used the platform to post two more videos showing police constables outside his house and thanked his followers for reaching the protest site on his behalf. "Hindu youth from across Delhi are on the road now. Sherpur area (Khajoori Khaas) is packed by them in support of CAA," Singh said.
Several other Hindutva supporters shared similar posts and live videos. Mohit Singh, a Hindutva supporter, posted a live appeal from his car as he travelled from Gurgaon to Jaffarabad.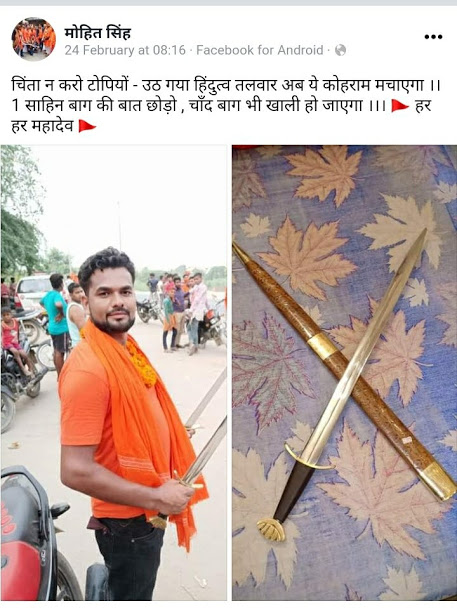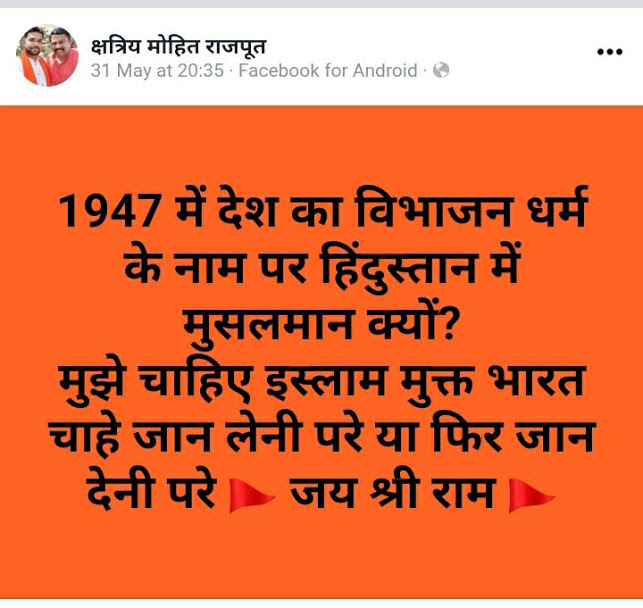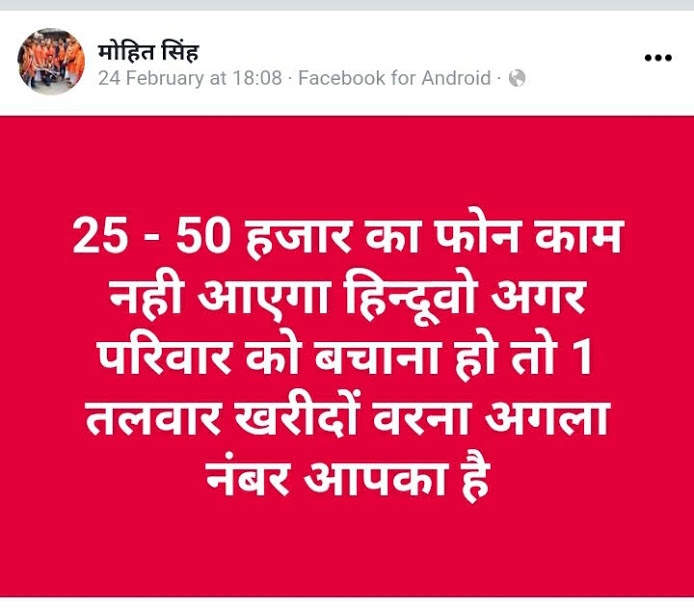 Singh has two active accounts, one with profile photos of him holding two swords and a cover photo of him standing next to BJP minister Giriraj Singh and in the other with him posing with Telangana MLA T Raja, who was banned recently across all platforms for his communally charged anti-Muslim videos.
That day from the moving car, Mohit Singh told his 16,000 followers that the riots had started and alleged that Muslims were hurling stones at "Hindu sisters sitting in protests".
"Kapil Mishra [BJP leader] is reaching the spot,'' he said.
"I will say it openly, that the riots should happen," said Singh. "The katuas [a derogatory term for Muslims] are crossing the boundaries… the Muslims are interested in making war against us. We have to remove the glasses of secularism.''
India Following Myanmar, Sri Lanka In Weaponsining Facebook
The Hindutva posts we investigated bear classic hallmarks of hate speech, said Susan Benesch, scholar at The Berkman Klein Center at Harvard and founder of Dangerous Speech Project, who has closely followed the weaponisation of extremist groups on Facebook in Myanmar and Sri Lanka.
UN investigators in March 2018 blamed the social-media platform for playing a leading role by spreading hate speech in possible genocide of Rohingya Muslims. The same month, the Sri Lankan government accused Facebook for anti-Muslim riots and banned it for a week for fanning hate-speech and Islamophobic content.
In May, Facebook deplored the misuse of its platform, after an investigation by Article One Advisors, a San Francisco consulting firm, A company appointed probe into the 2018 Sri Lankan riots said Facebook contributed to rumours and hate speech that may have led to "offline" violence against Muslims in that country.
Benesch likened the content posted by Hindu right-wing accounts ahead of the Delhi riots to the anti-Muslim messaging in Facebook Myanmar and Sri Lanka.
"In Myanmar, appalling content against the Rohingyas was allowed to stay for a long time, and it was followed by genocide," said Benesch. "It happened because Facebook did not organise themselves to proactively take down such content."
She said it was clear to her that in the Indian context Facebook needed a new system of scrutiny, with trusted sources who could flag incendiary content and inclusion of more local languages because the current software for auto-detection of hate-speech was "not good enough''.
A Microcosm Of A Politically Sophisticated Network
The minority commission fact-finding report based on the testimonies of journalists who were at Maujpur and Jaffrabad on 24 and 25 February, recorded that the street was filled with Hindutva groups. Saffron flags were displayed everywhere, and people stood armed with swords, lathis, stones and even guns.
Pandit Ankit Tiwari's Facebook timeline visually documents this charged atmosphere from the afternoon of 24 February, when he arrived at Maujpur area to join the pro-CAA protest sit-in.
Tiwari's account is filled with pictures of guns and the national flag, himself posing with an axe-like weapon on the street and the trademark saffron tilak on his forehead.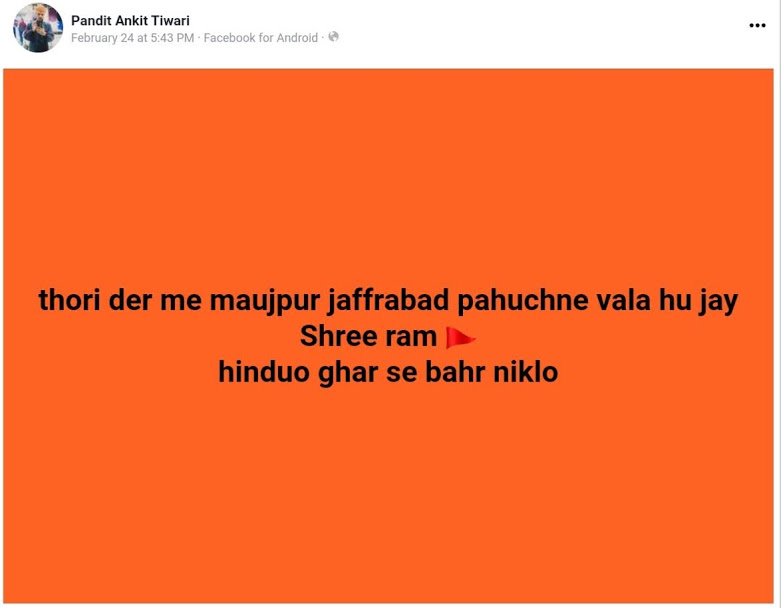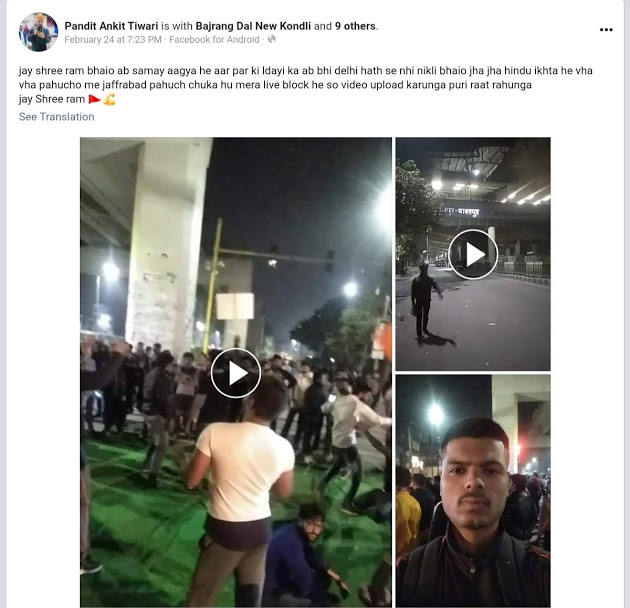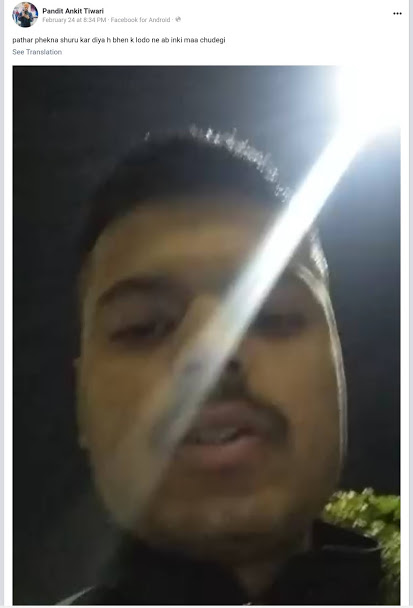 Between 7.20 pm and 8.40 pm, Tiwari, a member of the Bajrang Dal, posted six live videos before Facebook blocked the stream—which offered a variety of angles of the protest site—after he arrived outside the Maujpur-Babarpur metro station.
In a 42-second clip, Tiwari provided close-ups of hordes of young men armed with sticks, wooden planks and batons assembling and organising. A voice directed the men to pick up bricks piled by the roadside. The video zooms in on the bricks and fades out.
In a 13-second clip that followed the first one, he updated his viewers that "benchod mullas have started pelting stones, now we will f*** them, wait and watch.''
In another 17-second clip, with people around him screaming Jai Sri Ram, Pandit picked up a brick and stared into the camera. "You will be f***ed now,'' he said, addressing Muslims.
This could be a microcosm or a sliver of the "politically-sophisticated network of more than a thousand actors", which Facebook US data-scientist-turned-whistle-blower Sophie Zhang referred to in allegations made in Buzzfeed News on 14 September, against the social network giant.
Without naming any political party, Zhang said she had worked to remove a network looking to influence the Delhi elections in February. Facebook never publicly disclosed this network or that it had taken it down
Ragini Tiwari, Anjali Verma, Deepak Singh and Mohit Singh follow and support one another online and offline, we found.

Most recently, on 2 October, Ragini Tiwari, Anjali Verma and Mohit Singh jointly participated in Republic Bharat news channel organised

#JusticeforSushant

demonstrations in Delhi and posted videos from the site on their Facebook accounts, while Deepak Singh posted a live video celebrating Nathuram Godse to mark Gandhi's 151st birth anniversary.
Shortly after the violence ended and Tiwari's name surfaced as a riot perpetrator, these accounts and groups launched a coordinated campaign to help her evade arrest.
Mohit Singh put up two videos in March, telling his viewers how a lone Hindu woman showed "the pigs" their worth and assured Tiwari solidarity from "all Hindu brothers".
Since Facebook suspended Tiwari's accounts, Deepak Singh made a joint appearance with her on Facebook live on 3 March at the Delhi Press Club.
Tiwari used Singh's platform to acknowledge her participation in the violence once again to 23,000 viewers. "The media projected me only as a rioter when my crime was that I have awakened the Hindus. I stopped them from hitting with stones (patthar khane se rokha) …yes, I have repeatedly said I am not from Gandhi's camp but a follower of Godse (Nathuram),'' she said, once again appealing to her Hindu brothers to keep up the force of awakening. "The way they came prepared with swords and weapons…we must as well…''
Profit Over Safety, Mainstreaming The Fringe
The phenomenon of Hindutva groups and leaders using social media to deliver political-ideological messages and circulate propaganda is not new, observed Ingrid Therwath, a French journalist and researcher at the Courrier International newspaper. Therwath, who called the phenomenon cyber-Hindutva, first noticed the use of the Internet by Sangh groups in the mid 90s amongst India's diaspora, when "cyber shakhas" were introduced.
"But for the first time, the fringe have become the mainstream as their ideas have greater acceptance and adherence among the majority. And they are also validated by the ruling government,'' she told Article 14, referring to the calls issued via Facebook and other social media to act against the Muslims.
"They are the unofficial mouthpieces of the BJP," said Therwath. "They have a defacto impunity offered by the government in power.''
Facebook India has been complacent in violating its own policies to liberally concede its platform to the ruling BJP, which is also one of its top ad-sponsor, showed recent reporting (here and here) from the Wall Street Journal and Article 14.
Facebook's delay in containing radical right-wing groups masquerading as religious content is because they have some semblance of "state sanction", said Amarnath Amarsingham, assistant professor in the School of Religion, at Queen's University, Canada, and an expert on the intersection of religious extremist groups and social media.
He spotted commonalities between the Hindutva network and US white supremacists in terms of online-posting behaviour and hate speech. "The difference is, Hindutva pages might have state sanction and social media platforms find it difficult to remove state-sponsored content or that related to the ruling government in any country,'' Amarsingham said.
Mirchandani from ORF said Facebook urgently needed to audit its India operations and ramp up its artificial-intelligence tools, such as vocal- and pixel-recognition systems, to ensure users propagating hate speech and dangerous content do not resurface through proxy identities.
"Facebook needs to keep its public policy vertical which works with ruling government and content moderation verticals reviewing problematic content, separate," said Mirchandani. "The latter cannot work under pressure to appease the powers to be."
Amarsingham said it was always challenging for profit-driven social-media companies in countries where a lot of hate speech was "coming from the top". In April, Facebook invested $5.7 million in Reliance's Jio, which has more than 370 million subscribers.
Facebook's internal politics shielding the BJP, Amarsingham said, reflected its corporate priority of "choosing to make profit over policing of community standards''.
(Shweta Desai is an independent Indian journalist and researcher based in France.)