New Delhi: When Sarwan Ram Darapuri was recently invited to travel to Gorakhpur in eastern Uttar Pradesh (UP) and speak at a demonstration on land rights for marginalised communities, his family and friends advised him to ignore it. He is 79 and suffers from Parkinson's disease. They had genuine concerns about his health.
Darapuri boarded a train from Lucknow to Gorakhpur in eastern Uttar Pradesh (UP) on 9 October 2023.
A Punjab-origin retired Indian Police Services (IPS) officer-turned-human rights defender, he was one of the main speakers at the event attended by several Dalit and backward caste activists on 10 October.
In his short address at the well-attended gathering, which had a sizeable number of rural Dalit women, many waving blue Ambedkar flags, Darapuri urged everyone to intensify their demand for land distribution ahead of the 2024 Lok Sabha election to draw the government's attention.
"Agar zameen nahi, toh vote nahi (No land, no vote)," he declared from the makeshift stage, videos shared with the family show.
While Darapuri's family and friends worried about his physical health, nothing had prepared them for the criminal proceedings unleashed against him and other activists, mostly Dalit, and a French national, by the Gorakhpur administration in the wake of the demonstration.
Darapuri and five others were arrested and sent to jail after officials lodged a first information report (FIR) accusing the activists unlawful assembly, vandalising official property, assaulting, abusing and threatening the staff inside the divisional commissioner's office premises.
Station house officer of Lucknow Cantonment Randhir Mishra on 14 October told Article 14 that 10 people had been arrested and that the police investigations were continuing.
At the time of publication, they had been in jail for 11 days.
Darapuri, who retired as inspector general of police, was booked for attempt to murder, criminal conspiracy, rioting, criminal intimidation, voluntarily causing hurt to deter public servant from his duty, assault or criminal force to deter public servant from discharge of his duty and damage to public property under the Indian Penal Code, 1860.
If convicted for attempted murder, Darapuri faces up to 10 years in prison.
Gorakhpur is the political bastion of Yogi Adityanath, the chief minister of UP and a five-time member of parliament from the constituency. On 11 October, a day after the protest, when the crackdown against the protestors started, Adityanath was in Gorakhpur, where he participated in an event marking the 131st birth anniversary of Hanuman Poddar, one of the founders of a publishing house called Gita Press.
Activists and kin of those arrested view the crackdown in Gorakhpur as the latest instance of the Bharatiya Janata Party (BJP) government's assault on the right to assemble peacefully and democratically voice dissent.
Even though there was no sign of any overt large-scale violence at the protest, which concluded with senior officials receiving their letter of demands, the activists were later booked under grave charges, including attempted murder.
The FIR does not speak of any large-scale violence and has any reference to any specific weapon or tool used by the protestors to launch a murderous attack.
Newspapers did not carry accounts of violence. The attempt to murder and conspiracy charges were added later.
Media, Police Allege A Conspiracy
After the crackdown, local Hindi media published unverified reports linking the demonstration to foreign funding and a Leftist conspiracy.
On 13 October, Dainik Jagran reported that the anti-terrorists squad of UP police would probe the "big conspiracy behind the protest." On 15 October, the print version of the same newspaper probed in its headline, "Who wanted to fan [the flames of] the protest to sow the seeds of disaffection," while claiming that Darapuri and the French national had attended the demonstration with the "intent of spoiling law and order".
A French scholar visiting India to research poverty and who was filming the demonstration was also arrested. Police have remained tight-lipped about these allegations even as the activists struggle to get bail.
Rajeev Yadav, an activist in UP currently agitating against the land acquisition for an airport near Azamgarh, said the criminal action taken in Gorakhpur was an "anti-Dalit act" of the Adityanath government.
"It has become a crime under Yogi's rule to demand one acre of land for Dalit, OBC and Muslims," said Yadav. "The real crime is that they are still landless. The government should answer that question first."
Darapuri's son Ved Kumar said his father's activism was motivated by a sense of duty he feels towards society. "From his early days, he would read Ambedkar and often say that 'we all need to do something for the society'," said Ved.
Ved said that by constantly targetting prominent activists, such as his father, the government wanted to "create fear" in the minds of others. "And they are doing this without considering anyone's age or the content of what they are saying," said Ved. "They are going after whoever raises their voice."
Retired professor Roop Rekha Verma viewed the criminal action against Darapuri and others in the larger perspective of the government's clampdown against those voicing an independent opinion and raising basic questions such as land rights.
It did not matter to the government if the person voicing an independent opinion followed law, was aged, patriotic or had some standing in the society, said Verma.
"Even in countries without a democracy or theocracies known for oppressing citizens, they don't put people in jail for asking these basic things," she said.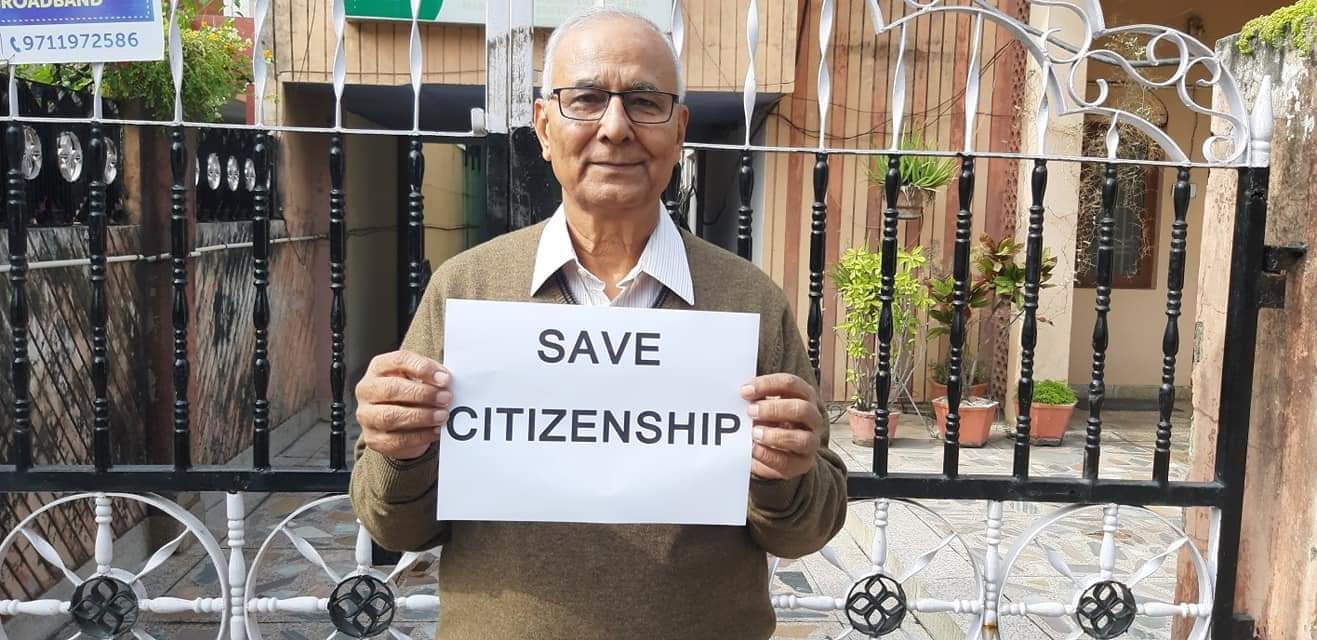 Darapuri Versus The State
After retiring in 2003, Darapuri, a vocal critic of the BJP government, has been at the forefront of civil society movements, intervening through petitions, public meetings and right-to-information petitions.
Darapuri has focused on labour, land and forest rights issues and the right to food and education in the impoverished region of Sonbhadra in east UP. He even contested two Lok Sabha elections from the district (Robertsganj constituency) as a candidate of the political party All India People's Front (AIPF), which he heads, but lost on both occasions in 2014 and 2019.
In December 2019, Darapuri was among those arrested for violence that erupted during protests against India's new citizenship law in UP. Even though Darapuri did not attend a19 December protest against the law in Lucknow, as he was already under house arrest as a preventive measure.
The police in their chargesheet described Darapuri as the "catalyst" and main conspirator. He was imprisoned for almost three weeks before being released on bail.
Even in 2019, Darapuri was charged with attempt to murder, rioting and damaging public property, among other charges.
Soon after his release, he was among those served arbitrary notices by the government for recovering damages to public and private property during the violence in the anti-CAA protests.
His photo was also on much-criticised 'name and shame' public hoardings of those accused even though they had not yet been tried.
Darapuri regularly questions police on custodial killings, 'fake encounters' and misuse of laws against citizens.
In 2020, he wrote an essay in Hindi describing how the police force he worked under and those functioning under the Adityanath government were not the same entities.
"You can imagine that if the police can indulge in such oppression and illegality against someone who served in IPS for 32 years, what would they be doing with the common ordinary citizens?" wrote Darapuri.
"That's why I can say that India is now a police state where arrests and detentions are taking place in an indiscriminate and arbitrary manner," he wrote. "What the police say becomes the law. Facts don't matter anymore."
Ved Kumar said his father was sent to jail with clear disregard for the law.
"He has been such a senior officer and has always advocated that all action and demands should be made under the law," said Kumar.
Arrests In Gorakhpur
The demonstration was organised by a Gorakhpur-based Dalit outfit, Ambedkar Jan Morcha (AJM), to voice their demand that the state government grant one acre of land each to every landless and poor family from the Dalit, OBC and Muslim communities.
The police arrested Dalit political activist and convenor of AJM Shravan Kumar Nirala, his colleague Rishi Kapoor Anand, journalist and writer Siddharth Ramu, lawyer Jai Bhim Prakash, independent journalist Neelam Baudh and three YouTube media journalists.
A French scholar, Heinold Valentine Jean Roger, in India to research poverty and who was at the demonstration filming videos was also arrested by police on charges of allegedly violating provisions of The Foreigners Act, 1946, for visiting UP without a valid permit.
Article 14 reached out to the French Embassy in New Delhi to inquire about the scholar arrested in Gorakhpur. An official there said: "We are following the case but we don't comment on personal cases."
Asked about the conspiracy reports on foreign funding, SHO Mishra said he was not authorised to comment.
Additional superintendent of police Manush Pareek, circle officer of Gorakhpur Cantonment, told Article 14 that the attempt to murder charges were added to the FIR after the complainant informed the police that he had been attacked by the protestors with an intent to kill him.
Pareek did not specify the nature of the injury or attack but said that the charges were invoked on the basis of the complainant's medical report, which spoke of injuries.
We called Rakesh Sharma, the complainant, who worked in the divisional commissioner's office, to inquire about his injuries, but his phone was unavailable.
This was done, families of the activists alleged, to ensure they did not get bail from a magistrate's court and would have to approach a district court after spending some days in jail.
On 12 October, the court of the Gorakhpur chief judicial magistrate denied bail to Darapuri, who was then sent to judicial custody till 25 October.
Asked about the theories floating in the local media about the police probing the angle of foreign funding behind the demonstration, Pareek said, "I cannot deny it nor accept it. We are probing the case through various angles. It is an open investigation."
Criminalising The Demonstration
Darapuri's son Kumar said he could not understand why the administration criminalised the peaceful demonstration with serious charges.
"My father attended the meeting for barely an hour from noon," said Kumar. "By 1 pm, he was back in his hotel and was scheduled to take the train back to Lucknow the next day."
Local Hindi newspaper coverage of the demonstration did not report any violent incident.
The FIR, lodged against 13 persons and 10-15 unknown others, also named political and social activists Seema Gautam, Rajendra Prasad, Savita Baudh, Didi Nirdesh Singh, Ayub Ansari (politician and former MLA), Devi Ram and Sudhir Kumar Jha.
The activists were also booked for alleged power theft, for using a microphone system to address the public meeting inside the premises of the divisional commissioner's office.
According to the police, the organisers of the protest had allegedly violated the provisions of the prohibitory section 144 of the Criminal Procedure Code, 1973, which prohibits the gathering of more than four people in one place.
Crackdown On Dissent
The arrest of the ailing Darapuri, Nirala and other activists has triggered outrage among the beleaguered civil society of UP, which has been under constant attacks by the state administration after the Yogi Adityanath-led BJP came to power in 2017.
The state unleashed a wave of terror against activists after the anti-CAA protests in 2019 and 2020, arresting many while also taking steps to confiscate their properties.
In February 2020, police arrested a group of students and activists in Ghazipur while they were on a foot march against the CAA and NRC.
In September, the NIA raided the homes of several activists and students in East UP alleging that they had Naxal links.
To control dissent, the government ordered officials to probe 'negative' news items published by media outlets if they tarnished its image.
According to a report published by the Committee Against Assault on Journalists in 2022 ever since Yogi Adityanath took over as the head of the state in 2017, at least 48 journalists had been physically assaulted and 66 others had been booked or arrested.
'We Want Our One Acre'
Nirala, a former Bahujan Samaj Party zonal coordinator and the organiser of the protest, believes that distributing land to the landless Dalits, OBCs and Muslims would empower them and tackle economic inequality in a caste-ridden society dominated by a few castes.
"Some people own more than 1,000 acres of land while on the other hand we poor people do not even have a decimal of land (one-hundredth of an acre)," said Nirala at the protest.
"We don't want five kilos of free ration," said Nirala. "We want our one-acre land. We are not beggars. We are the mulnivasi (indigenous people) of the country, its poor and working-class people."
Ambedkarite activists have long argued that sustained landlessness exposes Dalits and marginalised communities to further oppression, reducing their chances of economic mobility.
"Atrocities against Dalits are on the rise. If Dalits will have land for subsistence, they will be able to earn a living with dignity. They will not face atrocities," Nirala said in a memorandum addressed to President Droupadi Murmu and submitted to local officials.
Since its conception in 2019, the AJM has consistently raised these demands.
Over the past year, it has held two public demonstrations demanding one acre of land and Rs 20-25 lakh for each landless and poor Dalit family. In December 2022, it convened a Dalit adhikar (rights) rally and, in March2023 staged a demonstration near the Gorakhpur commissioner's office.
When the state government did not respond to their memorandum of demands, the AJM decided to convene a third meeting on 10 October.
Called 'Dera dalo, Ghera dalo andolan', the third public demonstration marked the inclusion of landless OBCs and Muslims into the AJM's demands.
The AJM cites as a model the experiment initiated by the state of Telangana, which had in 2014 promised to purchase and distribute three acres of land to each Dalit family, even though in 2021 chief minister K Chandrasekhar Rao clarified that what the government meant was it would provide Dalits with the minimum required agricultural land to make a living.
In an appeal made to his supporters two days before the 10 October demonstration, Nirala said it was time to build public pressure on the government on land distribution to Dalits, which, if it happened, would "fulfil the dreams" of B. R. Ambedkar and Kanshi Ram (founder of the BSP).
"We are fully prepared to fight an aar paar ki ladai (a fight to the finish)," he said.
Nirala's brother Adarsh Nirala termed the arrests as arbitrary and an attempt to silence through power those talking of land rights.
"There was no violence at the event," he said. "There was not even a skirmish with anyone."
Police picked his brother up at three in the morning, a few hours after the demonstration ended on 10 October.
No Account Of Violence
Little evidence has emerged to indicate that the protest turned violent.
The FIR, lodged on the complaint of a staffer in the commissioner's office, does not mention any overt violence.
It said that hundreds of protestors reached the divisional commissioner's campus on bikes and in buses and tempos and started pitching tents there.
The protestors indulged in "dhakka mukki" (pushing and shoving) with the staff, who asked them to clear the premises, citing section 144. The FIR accuses the protestors of abusing the officials, obstructing them, tearing government documents inside the office and damaging flower pots on the premises. They were also accused of threatening to kill the staff.
In a Facebook live recorded towards the end of the demonstration, Nirala is seen addressing the Gorakhpur district magistrate and other senior police officers, politely explaining the issue of land distribution to them and requesting them to convey the demands to the chief minister.
The officials nod in response. It appears to be a cordial exchange.
Protesters said the DM assured them action.
Seema Gautam, the AJM's state president, Seema Gautam, named in the FIR, questioned the veracity of allegations levelled against them.
The demonstration started at 10 am, but she said the senior officials came to the spot to receive their memorandum only at 10 pm.
The protestors repeatedly sought updates from the administration if they had acted on the previous two memorandums. She said the DM even assured them that he would talk to the CM in two months.
"You had such a large force stationed there. Why didn't you lathi charge us when we were allegedly breaking the pots, hit us and arrest us on the spot? What cannons did we fire overnight that you had to slap us with serious charges," Gautam asked in a Facebook Live on 14 October.
Addressing her supporters, she said she would surrender before the police. However, she maintained that she had not committed any crime and would not back down from raising issues of marginalised communities.
"We are not criminals. We are fighting for our people's big rights. You cannot deprive us of this andolan," she said. "We will continue to fight for land. If you feel it is a crime to speak for the poor and fight for their rights, I will commit this crime again and again."
Media Complicity
Meanwhile, while police were tight-lipped, the local media have publishing unverified and unsourced reports about the protestors, linking them to a Leftist 'conspiracy' and foreign funding.
One report in Amar Ujala on 14 October, while reporting the arrest of three Youtubers who participated in the demonstration, claimed, without credible attribution, that the three men were tasked with managing the social media reach of such protests and sometimes instigated protests to become violent.
Another Hindi newspaper, Dainik Bhaskar, reported "shocking revelations" that the police suspected the protest involved foreign funding and had Leftist links.
The story also claimed that the UP anti-terrorist squad was probing the matter.
(Omar Rashid is an independent journalist who writes on political and social affairs.)
Get exclusive access to new databases, expert analyses, weekly newsletters, book excerpts and new ideas on democracy, law and society in India. Subscribe to Article 14.